---

This is the story of our trip to California for the American Yankee Association's 2005 convention in Sacramento. Because of an engine problem, we had to do some airplane re-scheduling. As a result, we brought the only Mooney to a Grumman Fly-in.
We visited these airports:
Sandusky, Ohio - fuel
Amana
, Iowa - overnight
Sioux City
, Iowa - overnight
Rawlins
, Wyo. - overnight
Moab
, Utah - overnight
Elko, Nev. - fuel
Sacramento
, Calif. - the convention site
San Francisco, Calif. - overnight
Klamath Falls
, Ore. - overnight
Driggs, Ida. - fuel
Aberdeen, S.D. - overnight
Beaver Island
, Mich. - overnight
Milford, Conn. - home
---
We began our trip in Amana, Iowa. Amana has it all: interstate highway, railroad, a major river, and an airport less than half a mile from a good motel. The first picture on this page was also taken at Amana's airport. The airstrip is between the Iowa River and the train tracks, with the town of Amana lying just across the tracks. There is also a seven-mile-long raceway, which was important to all seven of the Amana colonies. This canal provided power for several mills. The historical museum has a replica of the dredge boat that was used to build and maintain the canal.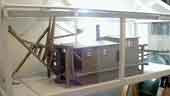 The Amanas were founded by a religious group from Germany who originally settled near Buffalo, N.Y. From there they migrated to Amana in 1855, where they established communes that persisted until 1932. In that year a devastating explosion put an end to the communities' self-sufficiency. They had no insurance, and could not absorb the enormous cost to rebuild their power plant at the beginning of America's Great Depression. So they voted to join the free enterprise system. The only remnants of the communal way of life were the newly formed Amana Church Society and the Amana Society, Inc., which oversees business and farming operations. The Amana Society still runs many businesses in the colonies, but many more are independently owned and operated.


There are several excellent restaurants ("good and plenty" style) within ten minutes' walk of the airstrip. This would nominate Amana as an ideal spot for a fly-in lunch. But the very first thing a pilot sees on the way into town is this micro-brewery. Oh, well. The car in front belongs to a man who knows a lot about breweries all over the world.

The Lily Lake has a practical purpose - it's a reservoir to maintain an even water level in the raceway. It has also been a popular place for recreation and reflection, especially in late July and early August, when the lilies are in bloom. It's between Amana and Middle Amana (background in this photo).
Amana houses.

One has a guard.

The original smokehouse is still used. It now includes a general store. The visitors' center was once a corn crib.


The historical museum is part of the Amana Society property. Its exhibits illustrate life in the commune, and show off the grape arbors that seem to be everywhere in Amana. Men and women in the commune were given tickets that they could redeem for wine, as a way of insuring that nobody drank too much. Men were allowed twelve gallons per year; women, six.

The Kinderschule was a nursery for children up to five years old - the original day care center. This arrangement was needed because mothers had to work in the community kitchens and gardens.

Amana quilts are full cloth quilts, not patchwork squares. They are made of one large piece of material covered in elaborate patterns of squares, diamonds, flowers, and loops. The designs are traced onto the fabric from a stencil. Often, one side is solid color and the other is a calico print. The frame is large enough for six or more women to work together. Six women working steadily can complete a regular-sized quilt in one day.


Miscellaneous farm tools, including a machine to cut cabbage for sauerkraut (second photo). The long-handled bucket is called a honeydipper. It's used to clean privies.

The museum's Noe House gives the visitor a feel for domestic living in Amana in the nineteenth century. All houses were similar in structure and furnishings. The living room is about 15 feet square. The walls are all painted in "Amana blue," a whitewash that was renewed every year. Carpets were woven by the village carpet weaver, while smaller rugs and runners were made by family members from cloth scraps. Walnut and cherry furniture, clocks, and shelves, were all made by local craftsmen. All of this, including the carpets, was taken outside every year for spring cleaning.

The cobbler's bench and tools belonged to Charles Hergert of Middle Amana. When he closed up shop in the 1950s, he was the last working cobbler in the colonies.
---

Navigating across Iowa by air is easy - the ground is your compass. If you still use statute miles, you can get a pretty good idea about groundspeed, too.
---
on to Sioux City
Amana Sioux City Rawlins Rockies Moab Canyonlands Arches Salt Lake Sutter Creek Big Trees Sacramento Convention Lava Beds Crater Lake Beaver Island
Home