Barely half a mile from the passenger terminal at the Rutland (Vt.) airport, there is a lattice-truss covered bridge that has been carrying traffic over the Mill River since 1870.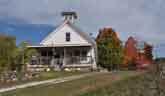 Turn right on the airport road. As you walk to the corner, you'll pass some interesting structures.


Not all of the structure is man-made.

Go right again at Union Chapel, or what's left of it. You'll pass the Kingsley Grist Mill, which is now a private residence.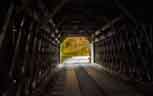 A few more steps, and there's the bridge on your left.

Here's a little more information about the bridge.