Home
Moncton Hopewell Rocks Cape Enrage Glace Bay Digby Port Royal Annapolis Royal Balancing Rock Bear River Halifax Peggy's Cove Blue Rocks Lunenburg
to the story's beginning back to Halifax

Halifax is a good base of operations for touring Nova Scotia's South Shore, the "Lighthouse Route." Peggy's Cove is about a 45-minute drive, and Lunenburg is just over an hour away. There are dozens of places to explore along the route, and you can still get back to the city for the evening.
One of these days, we should follow this scenic route all the way to Yarmouth. But that looks like a two- or three-day project, even if we do nothing but drive, and stop now and then to smell the lobsters.
---
There is a much larger version of the first scene here.
On its way to Halifax, Hurricane Juan made landfall at Peggy's Cove. There are no trees to destroy property as they fall, and the village is fortunate that its harbor faces west. The storm surge came in from the East, which is not where most of the buildings are. There was still plenty of damage, but it could have been much worse.
The town supposedly got its name from the tale of another storm, when a ship foundered on Halibut Rock near the cove. All aboard were lost except for a little girl who was found adrift the next day.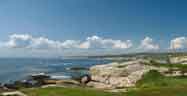 The girl didn't know her name or where she came from, so a local family adopted her and called her Peggy. She became known as "Peggy of the Cove." Her story attracted so many visitors from around the bay that the village eventually came to be called Peggy's Cove.
Now, Peggy's Cove is at the entrance to St. Margaret's Bay, and the name just might be a nickname for Margaret. But the little girl's story is endearing, and her adopted home town's beauty makes it one of the most popular tourist destinations in the province.
In the second scene, we have a view of Whalesback in the distance. Before we leave Peggy's Cove, we'll visit a memorial there.
Peggy's Point Lighthouse is as much of a draw as the beautiful village near it. The first lighthouse was built here in 1868, to be replaced by this one in 1914. When this one was built, the old lighthouse became the keeper's dwelling. That house was damaged beyond repair by Hurricane Edna in 1954. The light was automated in 1958, and the village post office was located here during summer months. When the post office was open, each piece of mail processed here got a special cancellation mark shaped like a lighthouse. Canada Post closed the office in 2009 because of mold.
In 2010, the Coast Guard added this light to its list of surplus property. This past May (2012), a deadline passed and nobody had yet nominated Peggy's Light for protection under the Heritage Lighthouse Protection Act, so now it faces demolition. Maybe a group of students will rescue it like they did at Cape Enrage.
Maybe these people could afford to buy it, if they cut back on beauty treatments for their dog. If you would like to own a piece of Peggy's Cove, there's more information here and here. If you'd like to live here, this may be the only way. Property here is so desirable that Nova Scotia has enacted special legislation that strictly limits who may own property in Peggy's Cove. This is to prevent wealthy outsiders from driving prices so high that people who live here could not afford to remain.
Peggy's Point Lighthouse is painted, drawn, and photographed more than almost any other lighthouse in Canada. It's not hard to see why.

For Jessie, it's just a lovely spot to spend some time quietly contemplating the Atlantic Ocean.

Every year, a few people are carried to their death as they slip on wet rocks or get swept away by a big wave. For some, the draw of the ocean is too strong; they're not satisfied to enjoy it from a few feet farther away.
Peggy's Cove was thrust into the news in 1998, when Swissair 111 crashed about five miles away. The airliner was getting underway from New York to Geneva, when fire was discovered on board. The crew decided to divert to Halifax, the closest suitable place for an emergency landing. They never made it. Swissair 111 crashed into the Atlantic Ocean, ending the lives of all 229 on board. This memorial is at Whalesback. There is a companion memorial across St. Margaret's Bay
at Bayswater, where the remains of the flight's crew and passengers are buried. The stones are oriented at each memorial so they point at each other, and each memorial has a stone oriented toward the crash site. The notches in the stone here represent the flight's number, 111.
From time to time, visitors leave memorials of their own.
This may be a sad case where a flight crew was so hidebound by procedure that they took their rule book to the grave. As they prepared to land at Halifax, the crew decided to dump fuel, to bring the plane within its required landing weight. Many investigators thought that the time they took doing this, would have been enough time for them to reach the airport and land, perhaps with some damage to the landing gear. Considering what actually happened, this would have been a small price to pay.
The Transportation Safety Board's accident report discounts this possibility, but there is ample evidence to support it. The point is that rules won't always save the day when you're in a situation that wasn't anticipated by the guys who wrote the rule book.
---
Some people call Blue Rocks "Lunenburg's answer to Peggy's Cove," but that description isn't fair to either place. They're not even the same kind of rocks. Peggy's Cove is lined with large granite rocks, which are igneous. Here we have sedimentary / metamorphic rock that was compressed by moving tectonic plates.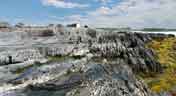 Blue Rocks also attracts artists and photographers, but it's mainly a fishing village. It's also kind of hard to find, and some of the people here like it that way.


Whoever lives here clearly doesn't mind being alone. Actually, this place has been expanded since we first saw it in 2003. Nine years ago, it didn't have a front porch. Or is that a back porch?
Blue Rocks is prime territory for kayaking …
… or for families who just want to look for fossils and sea shells …
… or for simply savoring the salt air and for more contemplation.

While Jessie was taking in her surroundings, she discovered that some of the rocks could be used to draw on others.







Josh did too, but his artistic expression shows the influence of Minecraft.

---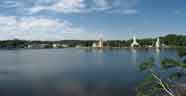 The road to Lunenburg passes through Mahone Bay, a worthy destination in its own right. We have stayed here before, but today it was just a lunch stop. There are five churches in town; these three are the best known. You can see the spire of a fourth church between the first two buildings at the left of this photo; you can also see that it's a little out of the way.
We didn't visit Oak Island, but it's easy to reach from Mahone Bay, so I'll mention it here. The story begins in 1795, when Daniel McGinnis discovered a site that he surmised was the location of Capt. William Kidd's buried treasure. He returned with two friends and started digging. They quickly realized that the project was beyond their means, both physical and financial. They sought help in the vicinity but only found doubters.
For the next two centuries, there were several attempts to recover the treasure, or whatever was at the bottom of the pit McGinnis had found. All of them failed, and some lives were lost in the process. When we first visited the area in 2003, the island was owned by two men who each believed he would find astronomical wealth beneath his parcel of land. They were very secretive, and would not let outsiders come near the place.
We understand that Oak Island is accessible now, but we just had lunch in Mahone Bay and moved on to Lunenburg. If you'd like a little more information about Oak Island, start here.
Before we get into Lunenburg proper, let's take a drive along South Cove. One family had a yard-sized celebration of Canada Day for the long weekend.

You can see from the clouds that the weather was off and on this day. We wanted to show the kids The Ovens, but it was raining too hard, so we settled for a shoreline drive. If you know about Acadia National Park's Thunder Hole, then you can understand the cannon caves at The Ovens. There are caves of a special size and shape there. They catch the rising tide in just the right way that they make a sound like cannon fire.
The main attraction in Lunenburg is the Fisheries Museum of the Atlantic. They remind us that Lunenburg was also a whaling center with backbone.


The kids pose for the standard "I was here" shots. Jessie is standing beneath the jaw of a blue whale. The colored lines on the deck in front of her show the lengths of different whales that were important to local commerce. There's a sign just out of the picture that matches the name of each whale with its color code.

Be sure to notice Josh's lobster claws.


Part of the museum's exhibit is outdoors. We climbed aboard the steel trawler Cape Sable (background) and the wooden fishing schooner Theresa E. Connor.
While we were on the Connor, it became obvious that we would be wise to make our way indoors, and soon. Thunder and lightning were on the way, and heavy rain for the next hour or two.





We did get a good look at the Theresa E. Connor, though, both in the wheelhouse and below decks. This boat was built in Lunenburg by Smith & Rhuland. That yard has a special place in Canadian spirit and history, being the birthplace of Bluenose.

In Atlantic Canada, all fish have names, same as everywhere else. But here, if you simply say "fish," it means Cod. When Europeans first came to the Grand Banks, these fish were so plentiful that the fishermen claimed they didn't have to hunt for them – the fish just jumped into the boat.
Josh is backwards in that barrel. When the fishermen decided it was OK to catch the fish rather than wait for them to jump aboard, they stood in barrels for stability while they hauled the lines in over the sides. The canvas flap kept the fish from flopping overboard, guiding it onto the deck.
When the fish were brought to port, much of the catch was dried. Salt cod was hard to work with, so the packers used a jackscrew to press it into barrels. The mechanism is called a "fish screw," and the wooden disk used to press the fish is a "cheese," after its shape.





Sable Island is a 27-mile-long sand bar about 100 miles southeast of Nova Scotia. It's called the "Graveyard of the Atlantic" because of all the shipwrecks – over 200 shipwrecks have been recorded there since 1583.
The satellite view shows Sable Island's strategic location near the steep drops on the ocean floor where good fishing begins. In August of both 1926 and 1927, severe storms ravaged this area, claiming all 138 men aboard six Lunenburg schooners and the American schooner Columbia. All of the Nova Scotia men who died so violently came from those tranquil places we had just visited. On some ships, entire families were wiped out. The Museum has a special area dedicated to the August Gales, the wrecks, and the frustration that followed. There was no ship-to-shore radio, and the
vessels didn't have engines. The owners started working on those deficiencies after the 1926 gale, but not all of the improvements were done in time for the 1927 season. This exhibit occupies only a small part of the Museum, but it has a compelling way of keeping the visitor here for a long time.
It shows, in a very personal way, that life at sea is not the romance we see in the movies and on television.

These are some of the Nova Scotia fishermen who were lost from the Columbia.
(warning: the island map at right is very large.)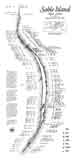 George Mayo, 28, died along with his brother Ab and his father Joseph. Another brother, Bert, survived aboard an engine-powered trawler. At the height of the storm, Bert was startled by an apparition of George in the wheelhouse. George said "Bert, we're all gone" and vanished.
Allister Firth, 17, didn't want to go on this trip and tried several times to get out of it. Just before the Columbia was to sail, he hid at his friend's house, but his father found him and forced him on board. Father and son both died.
James McLeod, 65, was from Liverpool [N.S.]. He had retired from the sea but decided to make one last trip.
On a lighter note, there are about 300 wild horses on Sable Island. They were introduced by Andrew LeMercier, a Huguenot priest from Boston who tried to colonize the island in 1738.
Our storm in Lunenburg finally moved on, and we took the last dinner of our trip to Atlantic Canada here, looking out on the harbor. It doesn't get much better than that.

---

The diorama shows the Lunenburg shipyard Smith & Rhuland. We see ships in different degrees of completion, from raw lumber to frames to ready-to-launch. The farthest model is Bluenose, which was built in this yard.
For Nova Scotia and New England fishermen, the catch is at Georges Bank, over 100 miles from home. Like the Cape Breton Island coal miners, the men weren't earning money while they were en route to work. So they needed fast boats that could carry a large load.
In 1851, the yacht America passed 15 British competitors, finishing several minutes ahead of the fleet to win the "Hundred-Guinea" Cup. This was deeply embarrassing to the British sponsors. Queen Victoria was watching the race. When she was told that an American boat had won, she asked who was in second place. The race was such a trouncing that she was told, "Madam, there is no second." The prize was renamed America's Cup in the winner's honor, and remained in American hands continuously for the next 132 years. It has never returned to Great Britain.

Because of their need for speed, fishermen of the Banks had a keen interest in the Cup races. In the 1920 contest, Shamrock IV was representing the fourth of Thomas Lipton's five attempts to win the Cup, this time from the yacht Resolute. Several of the races were postponed because of a 23-mph "gale" and high seas. The Nova Scotians scoffed at this: those conditions were the same seas the North Atlantic fishermen sailed every day! The seed was planted for the International Fishermen's Series.
A group of Halifax businessmen sent an invitation to Gloucester, a friendly but competitive seaport, to choose a fishing vessel to race against their best. The only requirements were:
• waterline no longer than 112 feet, and
• the boat must have spent the previous season fishing the banks.
In other words, no yachts.
The 1920 race was on, between Esperanto of Gloucester and Delawana of Riverport, Lunenburg County. It's just a footnote, but the American captain, Marty Welch, was born in Digby. After Esperanto won the series in two races, Canadians were left wondering if they had their own rerun of the America's Cup humiliation.
A consortium was quickly formed to build a winner in time for the second series in 1921. Captain Angus Walters was engaged, but his participation came at a high price. He insisted on majority ownership of the new vessel, which naturally gave him great influence on her design. William Roué was chosen to design the new contender, which was named after a mildly derogatory name used to describe Nova Scotia's cold-water fishermen. Thus was born the Bluenose Schooner Company.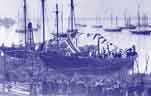 Bluenose was launched on 26 March 1921. Within three weeks she was on her way to the Banks to start work. Six or seven days out on her maiden voyage, in the middle of the night, a full-rigged ship was seen bearing down directly on Bluenose. The crew rang bells, blew foghorns, did everything they could to attract the attention of the other ship; but the intruder did not alter course. Reluctantly, Capt. Walters ordered his men to abandon ship. The larger vessel turned at the last possible moment, passing "so close you could throw a rock from one deck to the other." Angus Walters and his men rowed their dories back to re-board Bluenose, and got on with a full season of fishing. At one point they set a record for the largest load ever brought back to Lunenburg.
In May 1921, Esperanto struck a submerged wreck off Sable Island and sank. All of the crew were rescued, but the Americans had to find another vessel to represent the Gloucester fleet. They settled on Mayflower, but that yacht was found ineligible for lack of fishing experience. So Elsie, again with Marty Welch at the helm, was chosen to race against Bluenose in the second of the International Fishermen's Series.
Lunenburg historian Heather-Anne Getson comments on the series in her history of Bluenose:
The series against Elsie was significant. Not only did it result in a win for Canada, it also put the stamp of good sportsmanship on the contest. During one of the races, Elsie lost a portion of sail. … Angus Walters opted to take the high road. Looking back at the American schooner, he could see their predicament. He immediately issued orders that the same amount of sail be lowered from Bluenose; the vessels were to be evenly matched for the race.
Bluenose never lost the International Fishermen's Series. She and her captain sailed their way right into Canadian national pride, becoming a symbol of the country itself.

Wallace R. MacAskill grew up on Bras D'Or Lake, C.B.I., where it was more common for boys to have sailboats than bicycles. Combining his loves of sailing and photography, he photographed virtually every race ever run by Bluenose. His 1922 photograph of Bluenose
racing in Halifax harbor was used on a 50¢ stamp that has been called "the most beautiful stamp in the world." The stamp was so popular that its image was later re-used in a notable "stamp-in-a-stamp." The second sailboat on this stamp is probably taken from another MacAskill photograph, also of Bluenose.
Captain Angus Walters and designer Bill Roué also got their faces on Canadian stamps. Roué's face was superimposed on the original 50¢ stamp.
Bluenose has been featured on Canada's dime since 1937, although we know that sculptor Emmanuel Hahn used a composite of three different ships for this piece.
Since 1989, Bluenose's silhouette has been on Nova Scotia's license plates. This design is due for replacement this year, but I don't expect the new design to be as popular.
The Depression years were tougher on Nova Scotia than most other places. Capt. Walters managed to hang onto Bluenose until 1942, but was eventually forced to sell his beloved schooner. Bluenose had an interesting career after that in the Caribbean, but went aground on a reef near Haiti in 1946, damaging her beyond repair.
In 1963, Smith & Rhuland built a replica of Bluenose from the original plans. Originally a marketing tool for a brewery, Bluenose II was sold to the Province of Nova Scotia in 1971. The $1 sale price was paid with ten Canadian dimes. Bluenose II has been used as a sailing ambassador for Canada; but in deference to her namesake's brilliant career, she does not race. Smith & Rhuland began an extensive restoration last year, which is "almost done." They anticipate a relaunch sometime late Summer 2012. Meanwhile, the ship is closely guarded, 24 hours a day. Sightseers want to get as close as possible to this reborn icon, even to the point of trying to sneak aboard.


Bluenose II is expected to resume a full sailing schedule by 2013. Until then, a small copy of the original schooner on Halifax's Metro Center will always tell you which way the wind blows.
---
On the way home, we took it easy. We flew first to Bangor, Maine, to clear Customs and have lunch. We landed at home by late afternoon; Josh and Jessie were home in time to see fireworks for the second time this week, this time for our own country's birthday. Here are some aerial scenes from that last flying day, with links to a corresponding look at each of them on the sectional chart. The approximate area of the photograph is indicated by a rectangle on the chart.


Windsor, Nova Scotia
Avon River
Sectional chart


New Minas and
Kentville, Nova Scotia
Cornwallis River
Sectional chart

St. John, New Brunswick
St. John River
Sectional chart


Bath, Maine
Sectional chart


Old Orchard Beach, Maine
Sectional chart



Middletown, Connecticut
Connecticut River
Sectional chart

---
The weather made this trip more of a test than some of our other flying vacations. Aside from the instrument flying, there was the challenge of planning our time on the ground to make the best of good weather when it came our way. By keeping a lot of options open, we saw and did more than we hoped for, and even included a few things that weren't in the original plan. As always, we left a few things undone. We're already looking forward to our next visit to Atlantic Canada.
Trip Stats:
1629 nautical miles (1875 statute miles)
Four states and three Canadian provinces
14:10 hours block-to-block
12:52 hours in the air
146.3 gallons of fuel
I hear and read a lot about some of the archaic topics that primary students have to learn, and hate to learn. Navigation with paper charts, how to use an E6B, antique flight planning methods, on and on. The airplane we used is equipped with an up-to-the-minute, WAAS-enabled GPS receiver; I carried a totally modern laptop computer; and we were using the very best of radar-guided ATC services on every leg of this trip. But I still find it worthwhile to go through the exercises that "you'll never use after your checkride."
I find comfort in using a navigation log form that I developed from examples that were probably old when Van Sickle's Modern Airmanship was still in its first edition. I admit to cherry-picking the example, but it shows that it is possible to estimate trip time within a few minutes, even for a two-hour leg. Knowing this gives me the confidence to tell people (e.g., Customs agents) what time they can expect me to land.
My flight bag includes a mechanical "whiz wheel" that gets frequent use, both during planning and in flight. The batteries never run low, and it's simply the fastest way I know to compute leg times. Unlike the GPS in the plane, it's easy to use this gadget to compute an ETA beyond the next waypoint. Wind triangles are still a pain, so I do that calculation with a program I wrote for the aforementioned computer. Once I had the forecast winds aloft, it didn't take ten minutes to complete the navigation log for the example leg. As you can see from the color difference, the basic route planning was done several days ahead of time.
Don't scoff at the time spent in flight planning. I have seen many thoroughly modern pilots who waste much more time (and let their passengers sweat in their seats) while they program their entire route into the GPS before they taxi out, and then get upset if ATC re-routes them (more programming). It doesn't make sense to program more than the first one or two waypoints before takeoff. You'll have ample time to fill in the rest of the route after you're airborne, especially if you're using an autopilot.
For U.S. Pilots Flying to and Within Canada
This topic has grown to the point that I moved it to its own page. I hope it's useful