Click any image to see it full size. The large photos pop up in a new window.
Full-resolution copies of all pictures on this page are available at this link. Anyone associated with Pack 3 may download and use these photos freely, for their personal (non-commercial) use.
---
The Spring Camporee started off with a monsoon. Ark building wasn't on the program, so we pitched our tents in the rain, and just tried to stay as dry as we could. The campsite looked a lot better in the morning. Click the thumbnail image to see where we ate our meals.
Saturday's events were part educational, part contest. The Webelos packs and Scout patrols visited eleven stations, where they learned about a new topic or competed at a Scouting skill.
The group waits for the opening ceremony, followed by a shotgun start on the day's events.

And they're off! Some were faster than others.


Each station event started with the pack yell.
There were educational lectures about tracking icebergs and biological sampling.





Astronomy. This one was difficult.
One of the stations required the Scouts to fly a kite they had made. Pack 3's entry, a box kite, flew just as well as the ready-made kites we see here

At right, the Scouts are learning about oil spills and cleaning them up.


Several stations required the Scouts to take compass bearings on distant objects.


One station was Hammonasset Park's Nature Center. Here the Scouts got up close and personal with a Corn Snake, and saw a terrarium with White-Footed Mice. A sign on the terrarium explained that the mice are NOT snake food.



At the end of the day, we relaxed around a campfire. No marshmallows, just good conversation.


The campsite of Pack 3's big brothers, Troop 3.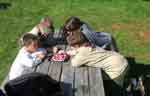 Sunday morning, there was time to spare between breaking camp and the closing ceremony, so some of the Scouts developed their minds a bit.



Lining up for the closing ceremony.
The closing ceremony. There is a wider version of this scene here.