AYA 2015: Flying to Brunswick
"Getting there is half the fun."
This isn't just a slogan for the Cunard Line. These are words to live and fly by. Some U.S. pilots will predictably look at their 48-state map and complain that Brunswick is at the edge of the country. Those who take a more global view will see clearly that it's really at the center of the world.
Our airplanes are made for travel. Let's see if there's a way to make a cross-country flight to Maine interesting for pilots and passengers alike.
Looking at likely routes to Brunswick from U.S. and Canadian AYA "population centers," we see that over half the membership lives less than one day's flying time from this year's convention. Take another day and spend some quality time on the ground. There's a lot to see and do along the way. This article looks at several possibilities, including a little bit of border-hopping.
If you're flying from Northern California or the Pacific Northwest, you'll need to address the same mountain crossings that affected many pilots flying to AYA 2013 at Arlington. These aren't significant problems for our planes, but simple "Direct-to" routes are not the best choice. This topic was well covered in three Star articles, in January/February and March/April 2013.
Let's take a look at some interesting stops along each of the routes in the sketch above. This is only a sampler. Awaken your inner tourist; make your trip to Brunswick the stuff of memories!
Pacific Northwest to Northern Michigan
One of those Star articles described a Grumman-friendly route along a line from Puget Sound to Cut Bank, Montana, but I think many pilots would be more attracted to flying near I-90 as far as Billings.
Helena is probably too close for an overnight stop, but the FBO has a bunkhouse available for pilots. First come, first serve. A recent comment on AirNav advised pilots to bring their own sheets and towels.
As you head east from Billings, the tall rocks are all behind you. Flying over North Dakota, you will find some distinctly unfriendly terrain. But there are still plenty of safe landing sites, and the Badlands are part of the attraction in this part of the state. Theodore Roosevelt spent some formative time here; a rugged national park now bears his name. This is near Medora, the state's most popular tourist attraction. These places are 35 miles from Dickinson, the nearest suitable airport, but they are well worth the trouble for a visit. If you stop at Medora, try the pitchfork fondue. It's just what it sounds like. The cook spears your steak on a pitchfork, and cooks it to perfection in a barrel of hot oil. It only takes a few minutes, and it tastes a lot better than it sounds. Served with live music.
Halfway across Minnesota, there's another interesting stop at Lake Itasca, midway (20 miles) between the airports at Bemidji and Park Rapids. You can rent a car at either place, and you'll need it. Use the state's park reservation system to rent a cabin at lakeside, and wade across the Mississippi River at its source.
Consider stopping at Duluth, maybe even stay overnight. There are hotels near the airport. There are some chain restaurants near the hotels. And ( gasp ) the Cirrus factory is there.
Continuing eastward, you'll encounter the Apostle Islands on Wisconsin's north shore. These natural wonders are better appreciated from a kayak, but they're impressive from the air, too.
Speaking of Wisconsin, Door County is not far off this route. This captivating peninsula is covered in the next section.
Michigan's Upper Peninsula is an under-appreciated treasure. Make some time to visit the Keweenaw Peninsula, where copper once brought great riches. This place is west of Chicago, but keeps Eastern Time because some Detroit politicians wanted the whole state to be in sync with New York. Therefore, sunset is close to 10 PM in July. This comes at a cost: sunrise is also later than usual, but nobody seems to notice or care.
Munising is a great place to spend a few days. It has a good airport, but services are distinctly lacking. There's a shuttle bus that connects the airport and town in summer months, but that's about all. The bus will get you into town for lodging and two delightful boat tours (here's the other one), but you may find yourself wanting a vehicle to tour the Pictured Rocks National Lakeshore independently. For that, you'll need to land at Marquette, almost an hour away. It's worth the time and trouble.
Mackinac Island and Drummond Island are also good stops along or near this route. Whitefish Point, too. They are all covered in sections to follow.
Northern California to Northern Michigan
There are many routes from San Francisco across the Rockies, but Bay Area pilots will be well served to follow I-80 at least as far as Wyoming. It's fairly straightforward flying. If your humor is "just so," you might offset a couple of miles to fly through the Donner Pass, about ten miles west of Truckee.
This route avoids the huge amount of restricted airspace covering central Nevada, and brings you to Elko (yes, named for the animal). Elko is a good food and fuel stop, with a couple of eateries just a short walk from the FBO. For no apparent reason, it's also home to a large Basque population. They have a big festival in early July, complete with running of the bulls. They also host the National Cowboy Poetry Gathering, in case you have a few well-turned phrases to share about your airplane.
Later, an hour or so crossing the Great Salt Lake Desert will give you a fresh perspective on desolation. Bonneville Flats are down there, where several drivers have tried to break the sound barrier in cars and motorcycles. Glenn Curtiss also set motorcycle speed records there. In 1907 he claimed the right to call himself the fastest person on earth in any conveyance, land or air.
Crossing southern Wyoming, Rock Springs is a convenient fuel stop. It's built on a mesa and has long runways, so density altitude should not be a problem. Once you clear the airport perimeter, the land falls away beneath you. The airport is several miles from town, so you should plan well if this is also your lunch stop.
Before reaching Rock Springs, you'll pass the Greater Green River Intergalactic Spaceport, which was supposedly built to accommodate visiting aliens. Apparently, Martians don't mind dusty dirt strips.
If you turn a bit north, you could have a close encounter with Devil's Tower (44°35.43'N 104°42.93'W). Or continue straight ahead to Mount Rushmore and the Crazy Horse Memorial. Both are better appreciated from ground level, but they're also impressive from the air. If you go there on the ground, attend Rushmore's Evening Lighting Ceremony at sunset, and allow enough time to savor the museum at Crazy Horse.
A straight-line route to Northern Michigan passes Sioux Falls, a surprisingly pleasant place to stop for the night. The airport service is excellent (you pay for it) – there's even a putting green inside one of the FBOs. Downtown, the layout encourages folks to get outdoors in summertime, with many open-air cafés and the Downtown SculptureWalk. Finish your day by watching the sun set in Falls Park.
Farther along, you might stop at Minneapolis to let the kids investigate the Mall of America.
Your flight path passes temptingly close to Wisconsin's Door County. This is a place where you will wish you had allowed more time for touring. There must be something about narrow places - it's only a few miles from coast to coast (Green Bay to Lake Michigan) on this peninsula. It's a lighthouse lover's dream. Door County has ten of them, more than any other county in the United States. There is public access to nine.
The fish boil is a local tradition with its roots in the lumber trade. The cook had to feed a lot of hungry men quickly, so the simple recipe evolved naturally. It's mostly whitefish, potatoes, and onions, but each vendor adds his own secret ingredients. Crowds gather when the cooking is done to watch the "boil over" that removes a layer of oil from the top of the cauldron. Dessert is cherry pie, another Door County specialty.
The Washington Island airport hosts a fly-in fish boil every July. This year's event follows our convention almost immediately.
Door County is an art center, with several programs and galleries. There are natural wonders like the Ridges, dunes that were deposited by centuries of Lake Michigan wave action. There are also quirky spots like Al Johnson's Swedish restaurant, where you can watch goats munch on the grass rooftop while you wait to be seated. This section could take on a life of its own; there are several Door County destination links here.
Northern Michigan to Brunswick
The lighthouse at Whitefish Point is the oldest on Lake Superior. It marks a place called the "Graveyard of the Great Lakes" for the many shipwrecks in the area. One of those was the Edmund Fitzgerald, whose bell has been recovered and is displayed at the Shipwreck Museum. If you contact the museum, they will let you spend a night in the lighthouse.
For most pilots, Mackinac Island is on the Bucket List. For all others, it should be. A complete description of this place "out of time" would fill an article this size, all by itself. The only motorized vehicles allowed on the island are airplanes. Everybody else walks, bicycles, or uses horses (watch your step). If you're not a registered guest, you can pay a small fee to saunter on the porch of the famous Grand Hotel, which has starred in more movies than many people. Visit Fort Mackinac, built by the British, who didn't give it up until 1794. They were able to recapture the fort during the War of 1812 because Americans in the region didn't know they were at war. Of course, you could just stroll the main street and the beaches. Buy fudge. The island is famous for its excellent product, so much so that locals refer derisively to day-trippers as fudgies.
Drummond Island is part of the Niagara Escarpment, a Michigan island surrounded on three sides by Ontario. It's an easy walk from the airport to town, but the airport staff will loan you a car so you can tour the whole island. This is a good way to see the DeTour Reef Light, which guides traffic between Lakes Huron and Superior. Several more tourist links are here. The runway is in the middle of a golf course; the AFD entry cautions pilots about golf carts and pedestrians crossing. Watch for them on final. They're not usually watching for you. It's not for lack of trying, they just don't know where to look. It's a three-dimensional problem. The airport is a convenient place to top off if you're about to cross Ontario to northern New York. If you're not going all the way into town, there's a restaurant a couple hundred yards from the FBO.
Some pilots might see northern Michigan as a poor route to Maine, because their course line bumps into Canada. This isn't really a difficulty, at least for the four-place Grummans. It's 358 nautical miles from Drummond Island to Ogdensburg, N.Y. Even with a slight headwind, this is less than a four-hour trip in the average Cheetah, barely three hours in a Tiger. There are a few extra steps involved with the border crossing, but Customs and eAPIS are not part of the process if you take off in the U.S. and land in the U.S.
There are three requirements for flying across the Canadian border, in either direction:
squawk a "discrete" beacon code
be in contact with ATC
fly on an active VFR or IFR flight plan
Most pilots who use flight following feel "naked" without the first two, so let's just consider the flight plan. In July 2015, domestic VFR flight plans may still be filed in the familiar FAA format. The problem comes in
opening
the flight plan near Drummond Island. There is no good radio communication with FSS there, but you can open a VFR flight plan with one of the new
LockMart services
that let you use your cell phone. Or, simply call the briefer just
before
takeoff and open the flight plan, giving your anticipated takeoff time. It's not widely advertised that this method is available, but it definitely is.
If you're IFR
,
you must file an ICAO flight plan for this airport - its approach facility is Canadian
call Toronto Center when you take off, and the flight plan is opened normally.
There is an expanded discussion about U.S. pilots flying in Canada, including a table with some differences in ATC-speak, on a
separate page
. The most confusing phrase you're likely to hear on an overflight is "cleared enroute." That means the same thing as a U.S. controller's "frequency change approved." It does
not
mean to change your transponder code. You will be entering an area of little or no radar coverage, but another controller will be expecting you when you come back into range.
Those who live by belt-and-suspender rules advise that you should carry passports for all on board, even though you don't plan to land in Canada. That will presumably make your life easier in the unlikely event of a forced landing. If you carry firearms, you should also be aware that Canadian rules are significantly different from U.S. law.
If some emergency prevents a landing at Ogdensburg, there are alternates just minutes away at Massena and Potsdam, although fuel is more expensive at those places.
Still using paper charts? The route is covered by the Lake Huron and Montreal sectional charts. However, I found it more convenient to use the Canadian Toronto chart, because the whole route is on one side of one chart. Foreflight users may safely ignore this paragraph.
Alberta to Brunswick
If your trip begins in southern Alberta, you could easily fly all but the last hundred miles to Brunswick without leaving Canada. I wouldn't want the fuel bill. You could also enter the U.S. in Montana or North Dakota and join the route from the Pacific Northwest. If you do that, remember that all Customs stations in North Dakota are in the Central Time Zone (UTC -5 in July). In the Dakotas (north of Pierre), the Missouri River divides the time zones.
Pacific Northwest to Iowa
As far as Billings, this route is the same as the one already described to northern Michigan. From there, it's easy to swing by South Dakota's Black Hills and through Sioux Falls, also covered earlier. From there, jump to the section from Iowa to Cleveland.
Northern California to Iowa
In a similar vein, this route starts out the same as from Northern California to Michigan, at least as far as Rock Springs. Then it diverges toward Nebraska.
If you don't stop at Rock Springs, consider Rawlins. The airport is convenient to town, and you can tour the Old Pen, open to the public since Wyoming built a new state penitentiary nearby. When asking directions, be sure you're specific about which prison you want to visit.
Cheyenne is another convenient stop. The airport is right in the middle of town. Farther east, see if you can find Jim Reinders's Carhenge. Its plan is exactly the same as the more familiar monument in England, but it's made of old vehicles. The Heelstone is a 1962 Cadillac. Scottsbluff is a popular stop for pilots on their way from California to Oshkosh. There's good lodging here. You can visit Chimney Rock, the Nebraska icon that reminded travellers on the Oregon Trail that they were about to leave the prairie behind for rougher land ahead.
Southern California to Kansas City
A Great Circle route from Southern California to Maine goes right across the middle of Colorado. So, unless you want aerial photos of Pike's Peak or a landing at Leadville, some compromise is in order. You could head for El Paso, but let's see what you'll find if you fly toward Las Vegas instead. The first obvious landmark is the Grand Canyon. Land at Williams, about 50 miles south of Grand Canyon Village. Take the tour train right into the center of things, and ride the shuttle bus to those places that are too far to walk. You can get on and off the bus anywhere along the route. You can land in the canyon, at Marble Canyon airport. There's a lodge right there, if you'd care to stay overnight.
As you follow I-40 eastward, swing south a bit to Meteor Crater (35°1.79'N 111°1.30'W). You could stop at Winslow. Take your own picture with the guy standing on the corner, waiting for a flatbed Ford to come by. Albuquerque is a good stop; the airport is right next to the city. When you reach Tucumcari, you've passed the highest ground. Take a slight left turn through the Texas and Oklahoma panhandles.
A few places in Kansas merit your attention. Don Francisco Vasquez de Coronado explored the place that would become Dodge City, eighty years before the Pilgrims landed at Provincetown. He was looking for gold, but didn't find it here. You can see ruts left by pioneers on the Santa Fe Trail. They're still visible, a bit west of town. They're even visible from space. You could also join the rest of the tourists, and have a chat with Bat Masterson while he waits his turn to kill some bad guys. He does it every day, at high noon. You'd think he might run out of bad guys.
Lucas is a quirky little town, about halfway between Hays and Salina. S.P. Dinsmoor built his Cabin Home here, and spent twenty years surrounding it with concrete sculptures he called the Garden of Eden. He also built a mausoleum in the front yard for his wife and himself. She died first, and the town thwarted his wish to inter her there. So he buried her conventionally, then dug her up one night and put her in the mausoleum. He quickly covered her with enough concrete to ensure that would indeed be her final resting place. Dinsmoor himself is also entombed there, in a coffin with a glass cover. Visitors may go in for a look, but no photography is allowed. Dinsmoor's work attracted other unconventional artists. Today the town is a small center for "grassroots," or Outsider Art. The airport is right next to the town - it's less than 3/4 mile from the runway to the far end of town. There's a diner at the airport, but no fuel. However, an AirNav comment says there's suitable unleaded car gas at the station by the diner, and that it's possible to taxi up to the pumps.
Hutchinson is in this part of Kansas. Here you can visit the Salt Museum, where Hollywood sends their films to be stored "in the vault;" and the Cosmosphere, where NASA sends their stuff for repairs. There's a popular steakhouse in the airport terminal.
Spend the night at another pilot Mecca, the Beaumont Hotel. After you land, taxi right down Main Street and tie down across the street from the hotel. Be sure to stop for the stop sign. Whatever you do at the hotel is about the only thing to do in Beaumont; there's not even a grocery store. The hotel has good wireless connections and laundry facilities for guests. Visiting pilots get a 10% discount, and breakfast is free. On the second Saturday of each month, there's a fly-in there, starting with breakfast. There are live bands from 5-8 PM.
This brings us to Kansas City, notable for barbecue and blues. Take a walking tour of the many fountains – they're proud of them.
Kansas City to Iowa
From Kansas City, you might aim your line slightly south toward Dayton, home of the Wright Brothers and the USAF National Museum. If you do that, check out Indianapolis's Eagle Creek Airpark. It's a popular stop on a large lake, right next to a bustling marina.
If you choose to head more toward Chicago and the Indiana Dunes, you'll also pass Hannibal and Nauvoo, home to Mark Twain and the Mormons, respectively. The Mormons left Nauvoo 170 years ago, but their townsite has been reconstructed faithfully. The Temple remains a significant landmark on the Mississippi River.
Iowa to Cleveland
Many groups tried religious communal life in the 19th century, with mixed results. Christian Metz and his Inspirationists succeeded for ninety years, most of that time in Amana, Iowa. There are seven towns, about an hour apart from each other as the ox-cart travels. An explosion ruined their power plant in 1932, and they couldn't afford to fix it like the rest of the country, they were affected by the Great Depression. So they voted to join the free enterprise system, ending their isolation. Two reminders of the old way remain, the church society and the historical society. The historical society maintains several of the communal buildings as a museum, making Amana the most popular tourist spot in Iowa. You can rent a car at nearby Iowa City or Cedar Rapids, or you could land at Amana's own well-tended grass runway. It's only a few minutes' walk into town from there.
Chicago looms ahead. You can't land downtown any longer, but there's good transportation available from Midway (MDW). There's so much to see and do in the Windy City, that there's no need to catalogue it here.
A bit farther east, you might want to stop at Michigan City and explore the Indiana Dunes. They won't let you climb on Old Baldy these days, because its shifting sands swallowed a child whole a few years ago. (Rescuers got the kid out OK, but it took a few hours.) Check out some of Indiana's lighthouses. There aren't many, but they have them.
Put-In-Bay was Commodore Perry's refuge during the War of 1812. It has a good harbor, and he found a cave that gave him access to fresh water without having to be seen above ground. The International Park there commemorates the truce that ended the war. It's one of the few places in the U.S. where other nations' flags are flown at the same height as Old Glory. This island is only five miles from the border. Ten miles away is Pelee Island, the southernmost point in Canada. (Johnson City, Tennessee, is closer to Pelee Island, Canada, than it is to Memphis.) Put-In-Bay is definitely not all serious business. The party starts as soon as the first wild ones get up in the morning, or in the afternoon, or whenever. At Mojito Bay, you can get some sand in your shoes, if you're wearing any. The bar "stools" are rope swings. The island is too small for many cars. If a place is too far to walk, folks generally use bicycles or golf carts. You can rent golf carts at the airport.
This route joins several others at Cleveland. Unlike at Chicago, you can still land at the lakefront airport here. It's not a bad walk from there to the main part of town, but the FBO and most hotels will be happy to drive you. Several attractions are less than ten minutes' walk from the airport: Rock-n-Roll Hall of Fame, USS Cod (submarine), Women's Air & Space Museum. Science Center, and the William G Mather, a shipping museum. Somewhere in the middle of all that are Voinovich Park on the Lake, Browns Stadium, and a windmill.
Cleveland to Brunswick
The route crosses western New York and the Finger Lakes. This is wine country (Concord grapes, not the European kind); there are many stopovers in the region to indulge your taste. A local sparkling wine won top honors at an international competition in Vienna in 1873. This is how Great Western champagne got its name – no entry from the New World ever got serious consideration before that victory. This area is also where the Erie Canal connected the Hudson River to the Great Lakes. It was a vital thoroughfare until the St. Lawrence Seaway made it obsolete. The canal still functions, and many parts of it have been reborn as tourist attractions. It's a pleasant way to tour New York if you don't have an airplane. Continue to Saratoga or Lake George, and onward to Maine.
Instead of flying south of Lake Erie, you might prefer to fly across lower Michigan to Port Huron, then cross southern Ontario to Niagara Falls. Navigation is as easy as it gets. There are major highways right under you in Ontario, and on a good day you can see the mist rising from the Falls from a hundred miles out.
We covered the business of overflying Canada in an earlier section.
Saratoga is horse country, and is where the potato chip was invented. The place also gave its name to one of the most important battles in the history of the world. Led by their erstwhile hero Benedict Arnold, American insurgents defeated the mighty English army and their Hessian mercenaries, encouraging France and other European nations to join the rebels in their quest for independence from the United Kingdom. You can walk in their footsteps, or take a nine-mile driving tour, at the Saratoga National Historical Park.
Lake George is another place for more than just a fuel stop, or even an overnight stay. This family resort is near the Glens Falls airport, which hosted AYA's 2007 convention. This is the original gateway to the Adirondacks, for those who would like to explore the largest wilderness area in the eastern U.S. – at six million acres, Adirondack Park is nearly three times as large as Yellowstone.
You're now in the home stretch, but there's still a lot to see. Rutland, in central Vermont, is a year-round recreation paradise. For a taste of history, visit Bennington, where Ethan Allen's Green Mountain Boys turned the tide of battle against Hessian mercenaries in the days leading up to the Battle of Saratoga.
Another recreation center is New Hampshire's Lakes Region, where Laconia hosted AYA 2000. If the weather is clear, Mount Washington will be in spectacular view on your left as you fly eastward. Find Sebago Lake in southeastern Maine, and you're almost "home."
Parlin Field (Newport, N.H., about 15 SE of Lebanon) is a good stop in this area. Full service lunch and self-service fuel. If you bring your own lunch, carry it to the NW end of the grass runway and eat by the covered bridge. Just before you go, visit the ice cream stand on the airport.
Portland is so close to Brunswick that it should really be treated as a side trip. That topic is covered in a later section.
Texas to Brunswick

On a Great Circle route from Texas to Maine, it's only a short jog to Gaston's White River Resort, another "bucket list" pilot destination. This well-maintained turf runway is less than a hundred yards from the swift, cold White River. There is a row of cabins between them, and a good restaurant at one end. You can eat their food, or they will prepare whatever you catch from the boats that come with the cabins.
If you don't visit Gaston's, or even if you do, Memphis and Nashville are both right along your route. Shiloh is a quiet stop between those two cities, interesting for its Civil War history and for the Indian Mounds.
As you parallel the Ohio River, you will find good accommodations at Rough River, Ky. The runway is in a state park with cottages and a large main lodge.
Then, there's Cincinnati. Stop at Sporty's for a "free" hot dog as you abandon your budget in the pilot shop.
A small detour brings you to Dayton, where you could easily fill several days. AYA did just that, at our 2010 convention. When you visit the various sites associated with the Wright Brothers, be sure to include Huffman Prairie. Walk the course where Wilbur and Orville learned how to steer an airplane – once they knew how to make it fly, they had to learn to fly it where they wanted it to go. Dayton is where you'll find the Air Force Museum. If you really want to see this place, allow at least two days. Reserve your spot on the bus to the annex, where you can see several experimental aircraft and a few planes that served as Air Force One.
As you continue northeastward, see if you can find the Grand Canyon of Pennsylvania. One end of it is near the Stonyfork VOR (SFK). If you're so inclined, follow it north to Letchworth State Park in New York.
Join the earlier routes near Saratoga, and you're only a couple of hours from Brunswick.
East Coast to Brunswick
Atlanta pilots must deal with the fact that their Great Circle route passes very close to Washington D.C. This requires very careful planning, to include completing the FAA's special online procedures course. You might plan to stop at Frederick and find out what AOPA has done for you lately. You might swing a bit west and join the route from Texas. Or, maybe you'll turn east to join the route along the East Coast.
Our Florida pilots may think it's too close to stop there, but I must mention Georgia's Golden Isles and the other Brunswick. Check out Jekyll Island; rent a Red Bug to get around. St. Simons Island was host to two popular AYA conventions, in 2003 and 2011.
For history and haunted evenings, go to Savannah or Charleston. For Civil War Buffs, Charleston is where it all started – officially. If your taste runs more to golf, Hilton Head is right along your route.
Kitty Hawk is an obligatory pilot stop. It's barely off the route used every year by Sun-n-Fun pilgrims. Walk where "The Bishop's Boys" launched their gliders and invented the tow plane. Learn about their sister Katharine, who should get equal billing with her brothers for her work at this windblown place. Food and lodging are within walking distance of the airstrip, but you can't get fuel there. The runway can be hard to see because the tree line is so close to it, but you can't miss the monument.
As you wander over toward the Outer Banks, plan a visit to Edenton, one of the prettiest small cities in the South. Edenton was briefly the capital of North Carolina, once a significant port city on Albemarle Sound. A lot of history has been preserved here, including a large neighborhood full of tin-roofed houses. The Sound is tidal, but not because of gravity. The wind fetches over such a long stretch of water that it can raise the water level at the downwind end of the Sound. So, on some days you'll see the knees of the cypress trees, and some days they're under water.
It's convenient to continue this route over Norfolk and the Delmarva Peninsula. Look for the bridge/tunnel that joins them. When New York announced plans to build a bridge over the Verrazano Narrows, the Navy said they would close the Brooklyn Navy Yard if that happened. They would not allow a bridge (bomb target) to stand between a major shipyard and the world's oceans. New York made good on their plan, and the Navy made good on theirs. Norfolk was not going to repeat that mistake, so part of the land link to points northeast runs below ground to allow free access for ships from Hampton Roads. If you stop in this area, visit Virginia's Historic Triangle – from Jamestown, where the English first arrived in 1607, to Yorktown, where they agreed to leave 174 years later.
Ninety minutes more in the air brings you to Atlantic City, with its famous Boardwalk and casinos. Sporty's is too far out of the way on this route, but there's no lack of opportunity to get separated from your money. The newest casino, Borgata, stands out in the skyline. Its glass wall is tinted so the building looks like it's made of gold. Your gold.
If the weather is good, don't pass up a trip beneath New York's terminal airspace. Fly the Hudson River exclusion, get face-to-face with Lady Liberty. Continue upriver or get a class-B clearance to fly over Central Park and LaGuardia Tower. If that view doesn't impress you, you're dead. Turn in your medical. There is a description of this route, and how to use it, here. Just be aware that Homeland Security closes this route when the Yankees (Hudson River) or Mets (LGA transition) are playing at home.
July Home Games
Yankees (River)
Mets (LGA)
40°49.6'N 73°55.6'W
40°45.2'N 73°50.5'W
03 July
7:05 PM
01 July
7:10 PM
04 July
1:05 PM
02 July
1:10 PM
05 July
1:05 PM
10 July
7:10 PM
07 July
7:05 PM
11 July
4:10 PM
08 July
7:05 PM
12 July
1:10 PM
09 July
1:05 PM
23 July
7:10 PM
17 July
7:05 PM
24 July
7:10 PM
18 July
1:05 PM
25 July
7:10 PM
19 July
1:05 PM
26 July
1:10 PM
21 July
7:05 PM
28 July
7:10 PM
22 July
7:05 PM
29 July
7:10 PM
23 July
1:05 PM
30 July
12:10 PM
31 July
7:10 PM
FDC 4/3621 restricts the airspace: 3 nm radius to 3000 AGL, from one hour before game start until one hour after game end.
If you need fuel in this area, the prices are fairly good at Poughkeepsie and Sky Acres (Millbrook), New York. Food is available at both airports, but the hours vary – call ahead.
They're a little off the route, but there are popular island destinations at Block Island, Martha's Vineyard, Nantucket, and Provincetown. Well, Provincetown isn't really an island, but it may as well be. You can go whale watching there, and maybe stick around for the very unusual crowd that comes out when the sun goes down. I mentioned the Pilgrims and Provincetown earlier. This really is where they first made landfall in the New World. There's a monument in town to commemorate that fact. The first winter was brutal to the Pilgrims, so they moved on to Plymouth later on.
If you want to make an aerial inspection of the Breakers and other mansions in Newport (R.I.), they're along the south and east shores near the word NEWPORT on the sectional chart. That's the city name in black, not the airport name in purple. Monitor CTAF to keep tabs on the skydivers.
You might also want to check out the Isles of Shoals, a scenic retreat offshore from Portsmouth, N.H. This is the group of islands where the sectional chart shows a lighthouse.
Half an hour later, you'll pass Portland to join the convention at Brunswick. Welcome!
Arriving at Brunswick
It's a safe bet that all AYA fly-ins will arrive at Brunswick from the West, unless they've first gone to Acadia National Park. As you pass Sebago Lake, look for Casco Bay on your right. After you pass Portland, the Kennebec River will be prominent on your left. The Brunswick airport is between them – you can't miss those huge hangars just south of the bridge. Just fly across the airport and turn left or right onto the appropriate downwind, and you've arrived at AYA 2015. ("RP 1R" – all traffic patterns are on the east side of the airport.)
BRUNSWICK EXECUTIVE
(BXM)(KBXM) 2 SE UTC-5(-4DT) N43°53.54' W69°56.33'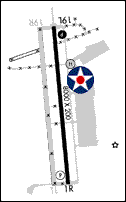 75 B S4
FUEL
100LL, JET A OX 1, 2, 3, 4 NOTAM FILE BGR
RWY 01L-19R:
H8000X200 (ASPH) HIRL
RWY 01L:
PAPI(P4L)–GA 3.0° TCH 50'. Trees. Rgt tfc.
RWY 19R:
PAPI(P4L)–GA 3.0° TCH 52'. Trees.
RWY 01R-19L:
H8000X200 (ASPH) HIRL
RWY 01R:
ALSAF. PAPI(P4L)–GA 3.0° TCH 51'. Trees. Rgt tfc.
RWY 19L:
REIL. PAPI(P4L)–GA 3.0° TCH 53'. Trees.
AIRPORT REMARKS:
Attended 1200-0000Z‡. Birds and deer invof arpt.

Rwy 01L-19R CLOSED indef

. ALSAF Rwy 01R OTS indef. Rwy 19L calm wind rwy. ACTIVATE HIRL Rwy 01R-19L, REIL Rwy 19L and PAPI Rwy 19L–CTAF.
AIRPORT MANAGER:
207-725-9701
WEATHER DATA SOURCES: AWOS-AV
134.875 (207) 409-1747.
COMMUNICATIONS: CTAF/UNICOM
122.725
®

PORTLAND APP/DEP CON
119.75 (112°-292°) 120.4 (293°-111°) 1045-0500Z‡
®

BOSTON CENTER APP/DEP CON
128.2 (112°-292°) 124.25 (293°-211°) 0500-1045Z‡
RADIO AIDS TO NAVIGATION:
NOTAM FILE AUG.
AUGUSTA (L) VOR/DME
111.4 AUG Chan 51 N44°19.20' W69°47.79' 212° 26.4 NM to fld. 349/18W.
ILS/DME
109.3 I-BXM Chan 30 Rwy 01R. ILS Rwy 01R unmonitored btn 0300-1100Z‡.
---
Side Trips
You've made the best landing of your life (no witnesses!) and your Grumman is safely tied down. Now what? Enjoy the convention, of course! But there will be some spare time, and the local area offers many ways to fill it. Here are a few. All of the headings are links to a collection of more links (Maine) or to travel guides (Canada).
AYA Star articles have already covered some of the attractions in and around Brunswick, and there will be more information there soon. Let's start right in Brunswick. Bowdoin College is here; its Art Museum is outstanding. If your weight and balance allowed you to bring your clubs, the local golf course is open to the public. Every summer Wednesday, there is a free concert on the Mall downtown. The genre for our convention week is Cajun and Zydeco. There's more music, indoors, at the Maine State Music Theatre. You could take a seal cruise, or just hike along the Androscoggin River. It's a short hop over to Bowdoinham and the Merrymeeting Arts Center.
Bath is about the same distance from our convention hotel as Brunswick. You've already read about the Maritime Museum in the Star. The museum will be featured in AYA 2015 plans. Visit Seguin Island and its lighthouse from here. Bath's main street has a variety of restaurants to entice you. The famous Bath Iron Works are here, but they're not exactly open to the public.
If you have a car and a day to spare, go see why Boothbay Harbor is so well loved. The town is a tourist magnet. You could occupy your day browsing its many shops and galleries, use it as a jumping-off point for a sailing cruise, or take the power boat to look for puffins and seals. Check out the lighthouses at the Cuckolds and Burnt Island. Maybe you're into rolling stock – Railway Village is just your ticket. For some quiet time, pass a few hours in the Botanical Gardens or at the Aquarium.
Harpswell is just south of our convention airport. There is a scenic cliff trail here that will take just about an hour over easy to moderate terrain. Aside from the obvious, it features a view of the airport, and the chance to inspect or add to the local collection of fairy houses.
Everybody loves shopping at L.L. Bean in Freeport, open around the clock. College students have a tradition of taking their pictures by one of the displays, but it must be done at 2 AM. Freeport is also where you'll find the Desert of Maine, a little patch of geological curiosity. They have a food concession there, but you might prefer the lobster pound down the road.
Portland is the largest city in Maine, but with only 200,000 in the metropolitan area it hardly qualifies as an urban wasteland. It is a delightful waterfront town and cultural center. Check out the many art galleries, or just stroll along the waterfront looking for the best lobsters. It's all here.
Rockland is wooden-boat heaven. There's a large and active dude-schooner trade here; a few hidden gems, too. The Owl's Head Transportation Museum, with its displays of all modes of getting from here to there, is on the north side of the airport. In town, the Farnsworth Museum is an excellent collection of art works. It includes the Wyeth Center, dedicated to the work of three generations of this great American family in Maine. While you're in Rockland, you should also check out the Maine Lighthouse Museum. The weekend before our convention, the North Atlantic Blues Festival will be held here.
Mount Desert Island is the jewel of Maine's Atlantic Coast. Its Acadia National Park is the only national park east of the Mississippi, and welcomes more visitors annually than any other, except Yellowstone. The park wasn't created by government fiat; it grew out of grants from individual American citizens, led by the Rockefeller family. These people wanted to preserve a beautiful natural environment for the enjoyment of future generations, and they could afford to do it.
One of the more challenging things to do in the park is also one of the most rewarding. Wake up at 3 AM and get to the top of Cadillac Mountain, the highest Atlantic headland north of Rio de Janeiro. This is the first place in the United States to feel the morning sun. There is color in the sky a full hour before sunrise, and a substantial crowd gathers here to witness the event.
As at Grand Canyon, the Park Service operates a shuttle bus to help alleviate congestion on the park's roads. You can get on and off anywhere, allowing you to see as much of the park on foot as you desire. Hike awhile, ride awhile. Catch a ride back to your car when you're done. You could also rent mountain bikes in town, and use them on park's unique network of carriage roads. These roads were built by the Rockefellers to make the park's grandeur available to equestrians, but they're open to all traffic except motor vehicles. They are featured on maps of the park – the best one is produced by the National Geographic Society.
The usual way to tour the park is via its loop road. About halfway around, the visitor will find the Jordan Pond house. Here, that visitor can take afternoon tea in one of the most beautiful rustic environments imaginable. Get it with popovers, the trademark local pastry. Savor it on the large lawn overlooking Jordan Pond, with the twin peaks of the Bubbles in the background. One of the park's easiest hiking trails encircles Jordan Pond. It's all level ground, and will keep you entranced for a couple of hours.
It's about a 45-minute drive around Frenchman Bay to Schoodic Head, an isolated part of the park. If you time it right, you could watch the sun set over Cadillac Mountain.
In October 2013, AYA's Region 1 scheduled an overnight fly-in at Bar Harbor. Unfortunately, the appointed weekend fell in the middle of a government tantrum. The President decided that a budget impasse required him to close all national parks, so we found ourselves in town with no legal access to Acadia. This forced us to seek out alternatives, which are plentiful. Some of us ended up in Northeast Harbor, which is southwest of the park proper. It's also home to the most beautiful Asticou Azalea Garden and Thuya Lodge.
There is enough to experience at Mount Desert Island that it's a shame we couldn't use this place for our convention. There is the "small" problem of competing for access with over a million other visitors who come here each year, most of them in summer. One at a time, we should still take advantage of this prime place for visitors. Try to make some time for it before you fly away home.
---
At the beginning of this article, I asserted that Brunswick was in the middle of things, not really at the edge of the world. Customs officers have a different world view, and we must acknowledge that there is an important border just an hour or so east of Brunswick. It's not hard to fly into and out of Canada; that topic is covered here, on the AOPA web site, and many other places. It would be a shame to come so far, land so close to Canada's Maritime Provinces, and not find out what's there. Set your watch. This part of Canada is one hour closer to UTC than Maine.
Grand Manan, 140 nautical miles east, is a quiet spot that would be an ideal afternoon jaunt if not for the Customs hassle. It's known as the "Dulse Capital of the World." Like a lot of other seafood, dulse is an acquired taste. If you haven't acquired it, this tranquil island has many other delights to offer. It's at the mouth of the Bay of Fundy, where you can see the world's highest tides.
The extreme tides are well displayed at Hopewell Rocks. Six hours before or after this scene, you can walk on the sea floor, forty feet below the high-water mark. Kayakers like to paddle through the little arch in the center of the picture. When the moon is full, the sea rises just high enough to keep them from doing that.
At nearby Cape Enrage, you can see the cliffs and caves that are covered and exposed twice daily. You can walk to them like normal folks, or get a quick, thrilling view from a zipline stretched above them.
Moncton is the nearest urban center for these attractions. On the drive back and forth, you'll pass the New Brunswick Railway Museum, which has a CF-101 Voodoo fighter in the parking lot! The staff tell some interesting stories about the day it landed there.
Drive east from Moncton to Shediac and points north. This is New Brunswick's Acadian Coast, which boasts the warmest water north of the Carolinas. If you tried to swim in Maine's coastal waters, you'll probably like this place better.
Being the home of Lucy Maud Montgomery, P.E.I. has a lot of tourist sites with an Anne of Green Gables theme. They won't be hard to find; after a while, you might find yourself wondering how to avoid them. The island is a good family vacation place, with emphasis on outdoor activity (or inactivity, if that's what you're looking for).
If you like it a bit livelier, the Cavendish Beach Music Festival (country music) immediately precedes AYA 2015. The Summerside Lobster Festival happens the week directly afterward.
Bring your bicycle. Ride the Confederation Trail, which spans the island from tip to tip. It was built when the island's railway was abandoned in 1989. There are almost two thousand geocaching sites along the route.
P.E.I. is an island. There are over five dozen lighthouses here. See how many you can collect.
If you've gone as far as P.E.I., it's only a short hop to Cape Breton Island, the part of the province that prompted Sir William Alexander to name the place New Scotland. A day or two driving or cycling the Cabot Trail will convince you he was right. Stay in picturesque Baddeck and visit the Alexander Graham Bell National Heritage Site. After Bell's telephone made him financially secure, he retired to Cape Breton because it reminded him of Scotland, too. Bell originally meant the telephone to improve the quality of life for deaf people like his wife. He continued his experiments here, and also got interested in aviation. The museum has the Silver Dart, an airplane that he built with a group that included Glenn Curtiss. That plane flew off the frozen Bras d'Or Lake in 1909 – the first powered flight in the United Kingdom.
For this part of the tour, you probably landed at Sydney, the only Nova Scotia airport that's beyond the Halifax sectional chart. Canada's Maritimes, Nova Scotia especially, are usually best known for the fishing trade. Sydney is strong in that department, but the city really developed around the coal fields beneath Cabot Strait. Canada's only metallurgical coal east of Alberta, the Sydney Field was the primary source of energy for the Industrial Revolution in Canada. You, too, can take a walk into a coal mine at the Cape Breton Miners' Museum. A few times a year, the Men of the Deeps perform there. This choral group is composed entirely of retired miners.
At the other end of the province, Digby was named for the Admiral who resettled a group of Loyalists here in 1783. After the Treaty of Paris, they were not happy to find themselves in a new country. The scallops caught here are world famous. Digby's airport is the highest in Nova Scotia, 499 feet above sea level.
Nearby is Bear River, the "town on stilts." This is mainly a gallery town, and they have good ice cream. They also have the First Nation Cultural Center, to help educate you about the people who were here before Admiral Digby arrived.
A short distance from Digby in another direction, you'll find Annapolis Royal and Port Royal, which were briefly the sites of France's capital in the New World. The Habitation at Port Royal is a faithful reproduction of Champlain's fortress. Back in town, relax with a stroll in the 17-acre Historic Gardens.
Halifax is one of Canada's most beautiful cities. It's a great place to explore on foot, and a good temporary HQ for a couple of road trips on the Atlantic Coast. Visit its Citadel, so imposing that it was never attacked. You'll get the best view of the harbor here, and you can watch the ceremonial firing of the noon gun. The Citadel is a short walk from the Public Gardens, a small park that will keep your interest for two or three hours at least. On the waterfront, visit the Maritime Museum of the Atlantic or just amble along the boardwalk. Pier 21 has been restored to tell the immigrants' story. From 1928 to 1971, this complex served the same function for Canada as Ellis Island did for the U.S.
Drive about an hour from Halifax to Peggy's Cove. This lovely fishing village has a lighthouse that attracts painters and photographers from all over the world. Don't walk too close to the edge on those rocks: "Slippery When Wet."
Lunenburg is also about an hour from the capital, if you stay on the four-lane road most of the way. Here you'll find the Fisheries Museum of the Atlantic. There are acres of exhibits indoors, and two work vessels afloat. One comprehensive display will educate you about Sable Island, the "Graveyard of the Atlantic." This offshore sand bar has claimed over 200 shipwrecks that we know about.
Sail aboard Bluenose II, Canada's flagship, if she's in town. Lunenburg is her home port. If she's not here, look near Pier 21 when you get back to Halifax.
Two natural wonders are near Lunenburg, The Ovens and Blue Rocks. Ovens Park is built around a sea cave similar to Thunder Hole back at Acadia. At the right time on a rising tide, water crashes in, sounding like cannon fire and spewing like a volcano. Watch your step if the trail is wet. On the contrary, Blue Rocks is a quiet place for meditation. Some have called it "Lunenburg's answer to Peggy's Cove," but that's an apples-and-oranges comparison. The rocks here really do have a blue cast, very pronounced when the sun is low in the sky. The place can be a little tricky to find; set your GPS to 44°21.18'N, 64°14.42'W.
---
Aerial Tours
Previous conventions have featured self-guided aerial tours. Here are suggestions for two scenic flights from Brunswick. Although they are longer than the tours at AYA 2013, they are within the range of all our planes, even the stock AA1 series. Loop lengths are about the same as the popular Yellowstone tours presented at the two Cody conventions, and only slightly longer than the geological air tour (AYA 2007, Glens Falls).
The truly adventurous might want to fly past Mount Katahdin, the northern terminus of the Appalachian Trail. The peak is 128 NM from Brunswick; you can do the math.
For those who use paper charts, these routes fit on one side of the Canadian Montreal chart. With U.S. sectional charts, you'll need New York and Montreal; plus Halifax for the Acadia tour. If you print the routes from the links below ("not for navigation!"), be aware that the scale is not standard. It's 1:648,000 (8.9 NM/inch), or slightly smaller than sectional scale.
The airport identifiers in the abbreviated waypoint lists for each route don't include every waypoint, but they will be good enough for navigation with any GPS. All waypoints are included in the SkyVector links and in the boxes at the end of each section.
Acadia National Park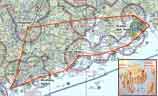 This route covers 204 NM. You can print a copy here (PDF 680K), or get more detail from SkyVector.
Abbreviated waypoint set: BXM.RKD.BHB.AUG..BXM
Depart Brunswick SW to South Harpswell, turn left around Bailey Island. As you follow the coastline to Owl's Head, you'll pass Boothbay Harbor, a worthy destination for a side trip while you're enjoying Maine. The Rockland airport is home to the Owl's Head Transportation Museum. Rockland harbor is usually full of beautiful wooden boats; there's a very active dude-schooner trade here. You might want to circle north and take in the view of Penobscot Bay.
Continue east over Vinalhaven and past Isle au Haut (pronounced oHO, accent on Isle). Isle au Haut is part of Acadia National Park, accessible by ferry from nearby Stonington.
By the time you pass Swans Island, the peaks in the main part of the national park will be front and center. As you fly south of Mount Desert Island, the ridges worn by retreating glaciers are obvious. Somes Sound almost completely bisects the island. This is the only fjord on this side of the Atlantic Ocean. (Some say it's "only" a fjard, whatever that means.) Cadillac Mountain is at the top of a long ridge, looking over Dorr Mountain and Champlain Mountain to its east. If you look hard, you might see The Tarn just east of Dorr Mountain. This little pond fills a small hollow that was left behind when a glacier was lost to Global Warming. Each year's rain and snow are enough to keep it full.
Watch for sightseeing planes and gliders from nearby Hancock County airport (BHB, "Bar Harbor Traffic").

Heading west now, you'll pass Penobscot Bay again near Belfast, a former shipbuilding center. Continue to Augusta, Maine's capital city. Look for the dome where the politicians gather to make their laws and sausage. They just replaced the copper last year, so it's not green yet. (The photo does not show what you will see in July! There's grass under that snow.) Turn left at Augusta, and follow the Kennebec River to Brunswick. Remember, it's right traffic for runway 1.
Waypoints for the Acadia / Bar Harbor tour map:
| | |
| --- | --- |
| Brunswick | KBXM |
| South Harpswell | N43°43.11 W70°01.85 |
| Boothbay Harbor | N43°51.28 W69°37.62 |
| Port Clyde | N43°55.16 W69°16.14 |
| Rockland | KRKD |
| Vinalhaven | ME55 |
| Banks | ME5 |
| Egg Rock | N44°21.18 W68°08.52 |
| Bar Harbor | KBHB |
| Belfast | KBST |
| Augusta | KAUG |
| Brunswick | KBXM |
Mount Washington

This route covers 212 NM. You can print a copy here (PDF 811K), or get more detail from SkyVector.
Abbreviated waypoint set: BXM.0B1.HIE.8B2.1P1.LCI.B18..BXM
Planning tip: METAR is available for Mount Washington (KMWN).
Depart NW past the twin cities Auburn and Lewiston. Looking down at their airport, you may spot a Lockheed Constellation near a large hangar. Lufthansa is restoring a Connie to flying status at this airport, but that airplane isn't the one. The plane outdoors is a spare-parts donor for the restoration plane, which is inside the hangar.
Then fly over Norway toward Bethel, where the Sunday River ski area will be right in front of you. There won't be any snow in July, but the trail pattern will stand out. The Condor 1 MOA is over Bethel's airport. Its floor is 7000 feet.
Follow the Androscoggin River to Gorham, where you'll begin rounding Mount Washington. The Yankee 1 MOA ahead has a 9000-foot floor. As you turn left at Franconia, you enter Yankee 2. This MOA goes right down to treetops. As you fly past Cannon Mountain through Franconia Notch, you'll follow I-93 down to Plymouth; then turn left toward Laconia. Squam Lake, northwest of Winnipesaukee, was used to film the movie On Golden Pond. There's a little museum there that displays some props from that movie, including a pair of wooden loon decoys. You didn't think they used trained loons, did you? The decoys were operated by SCUBA divers.
You'll see the Gunstock ski area just south of Laconia's airport. A few minutes later, you're at the south end of the lake over the Alton Bay seaplane base. Seaplanes can't use this airport all year because the bay freezes two or three feet thick. For a couple of months, a local merchant plows a runway on the ice. It's the only registered ice runway in the lower 48 states.
Turn NE for Sebago Lake, a popular recreation area for Portland area residents. Finally, a small turn toward Brunswick, where you'll fly over Freeport (L.L. Bean) a few minutes before landing. Remember, it's right traffic for runway 1.
Waypoints for the Mount Washington tour map:
| | |
| --- | --- |
| Brunswick | KBXM |
| Oxford | 81B |
| Bethel | 0B1 |
| Gorham | 2G8 |
| Whitefield | KHIE |
| Twin Mountain | 8B2 |
| Franconia Notch | N44°12.20 W71°41.03 |
| Plymouth | N43°45.40 W71°41.88 |
| Laconia | KLCI |
| Rattlesnake Island | N43°32.52 W71°17.08 |
| Alton Bay | B18 |
| Sebago Lake | N43°50.39 W70°31.68 |
| Brunswick | KBXM |