Home
Airports Competitions Harpswell Bailey Island Lobster Bake Swinging Bridge Desert of Maine Maritime Museum
to the story's beginning back to the Desert of Maine
---



Like most places nowadays, our hotel had a coffeemaker in the room. Apparently, they don't want any confusion about what you should use to hold your coffee. If you don't drink the coffee, they have some creative ideas about other things you can do with the cup.
---
Samuel Rogers Percy (1856-1940) went to sea at age 19, a bit older than sailors usually got started. But he learned fast and advanced quickly, sailing around Cape Horn ten times before he was 26. In 1882, Percy became Captain of the three-master Normandy, leaving square-riggers behind. Two years later, he took command of the brand new schooner Henry P. Mason, mainly sailing shorter coastwise passages. The lack of excitement was compensated by spending more time with his young family. They made a notable cruise to Velasco, Texas, where Percy's daughter briefly became the toast of the town. But the weather homebound was truly awful, prompting the Percy women's decision to remain ashore after that. Not long afterward, Sam Percy joined them. His stepfather and sponsor died, leaving a respected shipping business without a master.
Frank Albion Small (1865-1917) was a good complement to Capt. Percy's skills. A Bath scion, he was detail-oriented, with good grasp of the shipping business. He well understood the details of the financial and chartering business.
The firm Percy & Small began as a charter operation, but soon grew into shipbuilding as well. Business was good, and Percy & Small became a social center where Bath's maritime community would gather to swap stories and catch up on current affairs.
portraits: Maine Maritime Museum, via Snow, R.L., and Lee, D.K., A Shipyard in Maine, Tilbury House (Gardiner, Me.) and Maine Maritime Museum (Bath), 1999.
The shipyard on Bath's Kennebec River did well enough that it remained in business from 1894 to 1920, far longer than lesser talent would have survived by specializing in wooden sailing vessels in an age that definitely belonged to iron hulls and steam engines.
It couldn't last forever; Percy & Small delivered its last job in 1921. The yard still found occasional odd jobs, but the Roaring Twenties were not kind to the firm. Eventually, Sam Percy started selling off equipment and land. In 1931, Percy & Small was formally dissolved. Mother Nature began to slowly reclaim what was left of the property. In 1938, Capt. Percy transferred the property to Richard C. Morse, who planned to cut it up into building lots. But the project foundered, so Morse leased the buildings to Sears, Roebuck, & Co., who needed warehouse space. This way, most of the buildings found a use, and were somewhat preserved.
Most of the shipyard's history was almost lost forever, except for a lucky accident of timing. As Capt. W.J. Lewis Parker explains in his foreword to A Shipyard in Maine,
It was a particularly fortunate day in the autumn of 1954 when I first called on Captain Sam Percy's gracious daughter, Eleanor Irish. … It was soon apparent from our conversations that the bulk of Percy & Small's business records had long since been discarded. She was, however, having her father's house, vacant since her mother's death, cleaned out to be sold. There were, she told me, some papers on the kitchen floor which would soon be on the way to the dump unless I thought them worth saving. They proved, indeed, to be a treasure trove. They included the journal or day book covering the first fourteen years of Percy & Small's existence, contracts and specifications for building vessels, blueprints, and the original bills detailing the costs of nearly all of their vessels.
In 1962, seven Bath residents formed the Bath Marine Museum, which became the Maine Maritime Museum in 1975 when Mr. & Mrs. Lawrence M.C. Smith bought the former shipyard and donated it to the Museum. The buildings needed a lot of work, but this was the only site in the U.S. still intact that had built large wooden sailing vessels. Most of the original buildings still stand, and are obviously part of the museum. Another donation added the adjacent Donnell house, which had been the grand home of another Bath shipbuilder.
Our convention planners wisely included the Maine Maritime Museum into our agenda. In photos to follow, you'll see AYA members wearing our convention badges while visiting the museum. These were our admission passes for the week. Here's a tiny sample of what we saw there.

William Bromell's model of a Pinky Schooner is the centerpiece in the museum's main gallery. Scaled ¾-inch to one foot, it took ten years to build. Actual shipbuilding techniques have been used in miniature: use of treenails, pine "knots" in the masts, even a brick stove in the forecastle.
Pinky Schooners were popular in the 19th century for fishing with handlines over the sides, until they were eclipsed by larger schooners carrying dories. This model was built to the same lines as the museum's full-size replica Maine, shown here under sail.
City of Bath (1876)
This model was built by Charles R. Harrington (1831-1920), the predominant yacht builder on the Kennebec River before 1900. It is presumed to be the model he built to represent Bath shipbuilders at the 1876 Centennial Exposition in Philadelphia.


The Great Patience (19th century)
Well into the 1800s, small two-masted square-rigged sailing vessels did much of the work of coastal and even some long-distance cargo-carrying. Before development of the schooner rig, brigs were the "pick-up trucks" of oceanic commerce. A hermaphrodite brig like this one has a square-rigged foremast, and a two-spar mainmast (mainmast/topmast) rigged like a schooner: fore-and-aft sails, no yardarms.

"Last of the American Clipper Ships"
Snow Squall was built in 1851 at South Portland, Maine, and sailed for the Comstock Line. 157 feet long and drawing 16½ feet, she carried a crew of 16. She was badly damaged rounding Cape Horn in 1864, and subsequently abandoned in the Falkland Islands. She was partially recovered in 1987; the bow section is a permanent exhibit at the Museum.


It seems that everyone takes selfies these days. No visit here would be complete without one, would it?


Jessie's not tall enough to take a selfie with this figurehead.


When an architect designs a building, the carpenters work from two-dimensional paper plans. It's extremely difficult to visualize complicated shapes from such plans, so ship builders preferred to work from half-hull models, usually at a scale of ¼ inch to the foot. Defects were immediately obvious and relatively easy to correct with small planes and chisels, or simply by sanding. Further, the model provided an accurate representation of sheer line and waterline. By modelling only half of the hull, the shipwright assured symmetry of the final product.
Here's one way the half-hull model was used to produce molds to define the ship's frame. At each station along the model,
carefully bend a lead strip to match the hull shape
transfer the shape of the lead strip to graph paper
transfer the shape from there to full-size chalk lines on the mold shop floor
transfer those lines to the mold stock, usually thin pine boards
cut the shape with a bandsaw
One clever builder got the lines from floor to mold stock by placing copper tacks over the chalk lines, points up. Then he carefully pressed the mold stock over the tacks, and drew a line along them for the bandsaw. Once the mold was made for each station, building the frame was a relatively simple operation.

After a short wait in the picnic area, a guide arrived to give us a brief narrated tour. She told us the stories of Capt. Percy and Mr. Small and how their partnership grew, how a yard could prosper building wooden ships in the age of mighty iron, and a little bit about the processes they used.

We heard most of those stories in the blacksmith shop exhibit, a modern reproduction. The original shop didn't survive the Morse proprietorship and no plans were found, so this building was erected the same site, as near as possible to the correct dimensions.
Jessie's mind wandered a bit during some of the technical talk. She wasn't terribly interested in how to turn square wood pegs into treenails.
Caulkers used copious amounts of pitch to seal the ships' deck seams. They set kettles full of crystallized pine resin into this oven. When the resin melted, the men carried the warm pitch to the work site in buckets. They drove cotton and oakum yarn into the deck seams and sealed them with pitch.
When the pitch had cooled a bit, local boys sometimes took some – it was better than chewing gum, and it didn't cost them anything.
Bryant Brooks (1861-1944) was born in Bernardston, Mass., and educated there. He went to business school in Chicago, and then moved to Wyoming to raise livestock, using the brand V Bar V. He had several other successful business ventures and entered politics, becoming Governor of Wyoming from 1905 to 1911. When he wrote his memoir, he called himself "Cowboy, Trapper, Lumberman, Stockman, Oilman, Banker, and Governor of Wyoming."
Bryant's older brother, John Brooks, was a partner in his ranching ventures. He was also a successful Albany businessman, and had friends in common with Capt. Sam Percy. When Percy was looking for investors to build a new schooner, John Brooks arranged for him to take a trip to Wyoming. There, Percy laid out his plans to build a five-masted coal-hauling schooner, to be named Governor Brooks. He didn't have much trouble selling shares in the new venture.
These are the daughters of Bryant and Mary Brooks. (They also had a son, Silas). They were well-schooled in the rugged ways of the American West, but their father also wanted them to have the benefit of finer education. So he sent them to good Eastern prep schools and colleges. Abby went to Dana Hall, and from there to Wellesley College.
Abby was nineteen years old in 1907 when her family took her to Bath to visit the shipyard and get acquainted with their almost-finished schooner. Capt. Percy showed them around the shipyard. Cape Breton native Capt. Angus McLeod, the vessel's master, gave them a tour of the ship itself. For the ship's launching, Abby was the Sponsor, giving her the honor of christening the Governor Brooks. Maine was a dry state then, so they used roses instead of champagne.
As usual at launchings, the Governor Brooks was fully dressed – all her flags on display. One flag confused the assemblage, a white flag with red "V—V." Not recognizing Bryant Brooks's registered brand, one reporter wrote, "I never saw it in my code [book] and suppose it is some Masonic Sign."
These large schooners had engines, but they weren't used for propulsion. Called "steam donkeys," they were used to turn winches to raise anchors and handle sails. This allowed the behemoths to be handled by a small crew, only a dozen or so. In that way, they could remain economically competitive with the iron ships built up the street at the Bath Iron Works, which were otherwise much more efficient.
In 1908, Percy & Small embarked on their most ambitious project, which holds the record as the largest wooden sailing vessel ever built. Length overall was 450 feet – 300 cubits, same as Noah's Ark. John and Bryant Brooks invested heavily in the new ship, which was built to haul 6000 long tons of coal. When Wyoming was launched in December 1909, 19-year-old Lena Brooks was the Sponsor who spilled the roses at the launching ceremony.
By this time, Governor Brooks had a new master, and Angus McLeod was employed as Captain of the Wyoming. Following her launching, Wyoming went into service almost immediately, with a maiden voyage to Newport News. The crew encountered a ferocious gale offshore, delaying their arrival. Without internet connectivity, the ship was out of touch and overdue, making the investors rather nervous. But she arrived in port in fine shape, and had a rather quiet career for the next 7½ years afterward. Mostly she hauled coal from Virginia to Boston and Portland, but spent part of World War I in the coastal trade in Brazil and Argentina.
Capt. McLeod retired from the Wyoming, and the ship was sold twice. In March 1924, Capt. Charles Glaesel was in charge of a delivery from Norfolk to St. John, New Brunswick. A northeast storm developed when they were off Martha's Vineyard, and Capt. Glaesel decided to anchor near the Pollock Rip Lightship to wait for better weather. He was soon joined by the Cora F. Cressy, and the two schooners lay side by side for two days. Capt. Publicover, anxious about their rather exposed position, then left, taking the Cora farther out to sea to wait out the storm. When Wyoming was last seen, she appeared to be riding out the storm safely, but the ship foundered.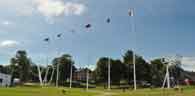 Capt. Glaesel and his twelve-man crew were never seen again.
This full-size sculpture represents Wyoming sitting on the site where the ship was built. The jib boom reached forward almost to Washington Street, with the stern section not far from the Kennebec River. Six 120-foot flagpoles represent Wyoming's masts.
---

We returned to the Maritime Museum for the convention's traditional closing banquet. The location was perfect, giving us an hour or so to mix it up on the banks of the Kennebec River.
The river was a good backdrop for souvenir photos, or just good conversation.


Some people were very busy during the convention, and used this opportunity to catch up with old friends they might have missed until just now. In due time, we made our way inside, for buffet and closing ceremonies.



As usual, some Englishmen commandeered one table, marking it with a distinctive centerpiece. The headpiece needs no explanation, if you know its owner. If you don't, the explanation probably wouldn't make sense anyway. Nigel could have been a chicken farmer, but he chose a different line of work.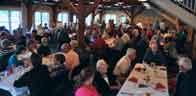 Our banquet meal was definitely not rubber chicken. Whoever the museum people use for catering did a masterful job, right down to the key lime pie for dessert. For the first time in many years, we had an after-dinner speaker. John James, who was stationed at NAS Brunswick, treated us to a history of the base and some insight into the aircraft that flew from here.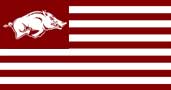 Before we said good-bye for another year or more, Fran Levy took the floor to preview next year's get-together. AYA 2016 will convene at Fayetteville, Arkansas, in the northwest part of the state. Because Arkansas's mascot is the razorback hog, the convention theme will be "when pigs fly."
---

Our flight home was like the one outbound, in smooth air on a clear day. Here's a parting look at Maine, beginning with the cities of Yarmouth and Biddeford.



Portland: the city, its harbor, and its airport.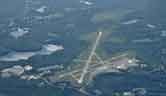 Worcester is in Massachusetts, not Maine, but it was too good to pass up the view from directly overhead.
---
The slight rearrangement of this year's convention schedule was a hit. A large number of those in attendance joined in the flying events – even the spectator section was larger than usual. And everyone got a good taste of local tourism. Time will tell what happens in the future, but this year's planners definitely had the right idea. Somehow, they also managed to arrange a week of excellent weather on Maine's rugged coast.