---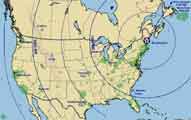 The American Yankee Association rotates the location of their annual convention, trying to make it convenient to members in all parts of the U.S. and Canada. Every four years it is somewhere in the East. Every other one of those is usually in the Northeast. For us, that means the convention is a short hop away from our Connecticut base, every eight years. This was one of those years, with the gathering held at Brunswick, Maine. Many people grumble when the convention is in the Northeast because it's not in their own backyard, or because it's hundreds of miles from Oshkosh. But even though Brunswick is in a "remote" corner of the U.S., it's still within a day's flying (or an easy overnight) for over half of AYA members. On this map, each green dot represents one member from the 2012 roster.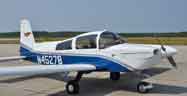 I've always looked at these conventions as an excuse to tour the country. So distance isn't a problem, it's an invitation. These gatherings have been the core of some memorable adventures, including a couple of coast-to-coast odysseys. It actually became a challenge to plan a trip to a nearby convention. Our usual rental source dried up because of a last-minute electrical problem, so we arrived at Brunswick in a borrowed Tigress. It's easy to overlook the fact that this plane is a lady, because the owner discreetly used a black label against dark blue paint.

Brunswick is an attractive town in Maine's midcoast region. For over 200 years, it has been home to Bowdoin College. In the late 18th century, Bowdoin was the first college in the United States to see the morning sun, so they put Old Sol on the college seal. Many notable Americans were educated on this tranquil campus.
Born in Connecticut, Harriet Beecher studied in Cincinnati as a young woman. There, she met and married Calvin Stowe, a professor in the seminary where her father was president. The Stowes became active in the Underground Railroad, housing several fugitive slaves on their way to points north. In 1850, Calvin Stowe accepted an appointment at Bowdoin College, and the couple moved to Brunswick. Mrs. Stowe had a vision of a dying slave, which inspired her to write Uncle Tom's Cabin. This book's effectiveness in the Abolitionist movement cannot be overstated; when they met, Abraham Lincoln said to her, "so you are the little woman who wrote the book that started this great war." The Stowes' home in Brunswick, where she wrote that book, is preserved as a national historic landmark.

Joshua Chamberlain, an 1852 Bowdoin graduate, later became a professor there. He taught every subject except science and math. Having visited in Mrs. Stowe's home while she was writing Uncle Tom's Cabin, he was strongly aligned with Federalist thought. When the country went to war, Professor Chamberlain took leave of absence "to study languages in Europe" (he was fluent in ten languages). Instead, he joined the Union Army and ended up commanding the left flank at the Battle of Gettysburg, eventually earning the Medal of Honor for his valiant defense of Little Round Top. This was the turning point of the Civil War. In recognition of this and other brilliant military performance, General Grant later appointed Chamberlain to receive Robert E. Lee's surrender at Appomattox.
Chamberlain was very popular when he returned home after the war; he was elected to four one-year terms as Governor of Maine. When he left politics, he served as president of Bowdoin College until 1883. Then he went to practice law in New York, where he engaged in several businesses. He was also appointed Surveyor of the Port of Portland (Maine). His home, across the street from Bowdoin College, is now a museum and research center.
We ate at Joshua's Tavern, named for Brunswick's famous citizen. Their menu includes dishes called Little Round Top and GettysBurger.
Since World War II, Brunswick was also home to a Naval Air Station, which closed five years ago. More about this in short order.
We took Barbara's granddaughter Jessie, a teenager who enjoys the convention events. So a large portion of this trip was spent at the airport, where the AYA members hold competitions and such. Unlike a lot of type-club meetings, this group goes flying at their flying convention. They don't just park their planes and play golf for a few days.
Naturally, we did some conventional touring as well. If you'd rather not read about all the airport happenings, just skip to our brief tour of the Brunswick area.
The U.S. Navy built Brunswick Naval Air Station in 1943, on land that had been used by the town for a small municipal airport. The original charter of NAS Brunswick was to train Royal Navy pilots to fly the F4U (Corsair), TBF (Avenger), and F6F (Hellcat). The latter two were built by Grumman, who also built most of the planes we flew to the convention. Before long, the mission grew to include a very effective anti-submarine patrol. After the war ended, the Navy deactivated the base, and it reverted to commercial use.
That didn't last long. With the Korean War, the Navy returned to Brunswick, establishing it as a base for submarine hunters that patrolled the North Atlantic Ocean around the clock throughout most of the Cold War.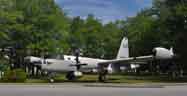 The Lockheed P2V (Neptune) was one of the most successful submarine patrol planes, in service from 1947 until 1970. It was unusual for many reasons. First, it was a Navy airplane but was land-based. The Neptune could not land on an aircraft carrier. Like this one, later models had both piston and jet engines. The jet engines were used only for takeoff, and operated for landings in case of a go-around. In cruise, they were shut down and doors were closed over the intakes to eliminate the drag from windmilling engines. For operational simplicity, the jet engines burned the same 115-145 octane gasoline as the piston radial engines.

This Neptune (#128392) still stands where the Navy put it, just past the guardhouse at the base entrance. It represents Squadron VP-21, called "Black Jack" for 21 obvious reasons.
Beginning 1962, the Navy began replacing the P2V with the larger P3 (Orion), also built by Lockheed. There is an Orion (#152156) near the one pictured here. Don Metz got a good shot of it in his daily coverage of the convention, on page 15.

As the Cold War wound down, the Federal government decided to close several military bases, including NAS Brunswick. The last Orions departed in November 2009; the runways were closed two months later. The airport was returned to civilian operations in June 2011. As Brunswick Executive Airport, it is a key component of Maine's Midcoast Regional Redevelopment Authority. They are developing an industrial park here, and have converted the former Navy housing to rental units with a very attractive feature. The houses were built with community steam heat. That utility and the electricity are not metered, but the rent has not risen to reflect that fact completely. If you can get into one of those houses, you got an outstanding bargain.
The FBO, Flight Level Aviation, is homey – even if they do seem to be asking visitors to take care of the plants. Outside, the handrails remind us that this building was originally used by sailors.

Graham Smith brought his Tiger and his Subaru to the convention. Since he got a special plate, he no longer has trouble remembering his license number.
This year's convention followed the usual format, with a new wrinkle. Typical convention scheduling has so much going on that visitors are often forced to choose between conflicting events that were planned for the same time. AYA 2015 had a more relaxed schedule that left room for people to better enjoy their time in Maine, but also included a couple of outings that showcased the area well:
Monday

Board of Directors meeting
participants fly in
evening reception

Tuesday – cruise and lobster bake on Cabbage Island
Wednesday – airport events

competitions (on the ground and in the air, morning and afternoon)
lunch at the airport
ice cream social after the contests

Thursday
Friday – departures

We arrived a day early, on Sunday, to learn that many others had the same idea. By the time we were secure in our parking place, we found there were about thirty other Grummans already on the ground at Brunswick. For a welcome change, we had paved tiedowns, a convention first since 2005 at another former military base. No need to pound in those stakes! We were parked a short distance from the FBO, which has moved into good quarters in the former Base Operations building beneath the old control tower. That's right, you're looking at the old control tower. A couple of years before they closed the base, the Navy built a new, much taller tower on the other side of the airport. The new tower has a better view of the whole airport, but the view from the old one was just fine. The Navy never used the new tower. Now that the civilian operations are uncontrolled, nobody uses either tower.

Although we were tied down close to the FBO, Kim was right there with a golf cart to shuttle us back and forth between the airplane and the building. This service was available throughout the convention. She didn't drive (we don't think), but Jessie was quick to hop on "to help balance the golf cart."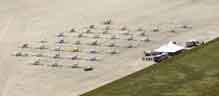 Another dozen or so pilots flew in on the scheduled arrival day, bringing the total to 43 airplanes. They're not all pictured here because some are out flying, including the plane we used to take this photo.
There's a much larger version of this scene here.



We usually leave a stuffed Tiger on station to guard our plane at these gatherings. After all, it's a Cat Convention. Ken Kirkpatrick trumped us with his purple tiger. His plane has purple trim, so it makes sense. This beautiful restoration won awards: Best in Show (judged) and People's Choice (popular vote for the same thing). You can't see the all-glass panel in this photo, but two noteworthy features are visible. The magnetic compass is mounted on the glareshield. I don't know how he managed the magnetic shielding to put the compass there, but it has to be much easier to read than the conventional location near the canopy latch. To the right of the compass, the GPS antenna is also mounted on the glareshield. There, it has an unobstructed view of the sky at all times, canopy open or closed. The wiring between antenna and the radio is also quite simple. Very clever.
Not far away, Dennis Oparowski's Cheetah announces his loyalty as a baseball fan. He won a few contests in this Cheetah.
As it turned out, the airplane competitions were planned for the only day of the week that had an unfavorable weather forecast, so the schedule had to be adjusted a bit. You can see the grey sky behind Dennis's Cheetah. It wasn't raining, so the ground events were moved to that foggy morning.

First, we gathered for the mandatory event briefings.


Guy Warner briefed the Limbo, a new event in the past couple of years. Graham Smith, the Ground Boss, briefed the taxi routes that would keep everything running smoothly. Then we went to lay out the courses.


While Ron Levy set out cones to keep spectators safely corralled, Bonnie Porter and her group laid out a devilish course for the Precision Taxi contest.




The taxi route welcomed competitors with a smile, and began deceptively with a straight course to the first target. Traditionally, the targets were eggs laid in a small mound of flour, but airport operators didn't like the mess. Combine eggs, flour, and hot pavement, and you have all the ingredients to make very unappetizing crackers. This worked for Israelites hurrying out of Egypt, but that was a long time ago. The modern target is a ping-pong ball. The contest team put tape on the pavement, and used Velcro to attach the balls.
The object is to flatten the most targets with your plane's nosewheel. The Velcro system made it easy to replace destroyed "eggs," but not many replacements were needed. The course didn't stay straight for long. After a couple of easy marks (mostly left unscathed), the course took a few turns until it looked like a distorted question mark. The last target had to be squashed at the end of a right turn. Since the contestant was in the left seat of his airplane, this made it almost impossible to see that last ball. The original end ball survived the whole contest intact.

After leaving the Precision Taxi course, combatants moved on to the event that Barbara and I volunteered to run, Spot Parking. Remember that the pilot is sitting on the left side of the airplane. His goal is to advance to the next spot, stopping so the right main tire is on the target. Two of them didn't pay enough attention to the briefing, and thought they were to stop with the nose wheel on that spot. For all the rest, my six-foot rule was quite adequate to measure their position errors. For the best three, I could have used a smaller standard.

But the spectators were really there to watch the Limbo.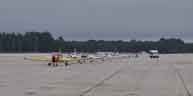 After Precision Taxi and Spot Parking, contestants went to line up, just as they would for a Caribbean Limbo contest. There was no music, but the line went through the gate again and again until only one plane remained.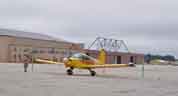 In the Limbo, you dance below a bar that gets lower and lower until nobody can fit beneath it. That doesn't make sense for airplanes, so this event uses pool noodles. The idea is to taxi through without knocking a noodle over with either wingtip. Like its namesake, Grumman Limbo starts out easy enough.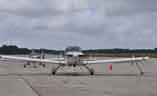 Then it gets interesting, as the noodles are moved closer and closer, and pilots have a harder time fitting between them. It's OK to touch a noodle, but it has to remain upright after you've gone through the gate. As time went by, the noodles fell and the number of Limboists got smaller. Finally, only Walt Porter and Kelly Wallace remained. They were snaking their way through noodles that were now closer than a Grumman wingspan! A certain left/right shuffle technique makes this possible. Well-waxed wingtips also help. On the tenth pass, Kelly knocked over a noodle and Walt did a little victory dance to celebrate, taxiing in circles while he pumped his fist up and down through his open canopy.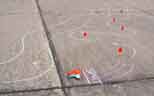 Dusty Crophopper is another fairly new event at the AYA convention. Kim Schmitz laid out a challenging slalom for a gamer with an RC model to race through. Not only the model had constraints. There was also a pair of lines to limit where the contestant could walk while running the course.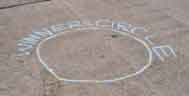 Right next to Dusty Crophopper's slalom was the Winner's Circle. For a dollar, anyone could have their picture taken there. The money went to AYA's scholarship fund, which helps young pilots with the cost of earning a license. I didn't see anyone standing in the other circle. Maybe they were all just picky about spelling.


Five years ago, Jessie and her brother volunteered to annoy contestants in Map Folding at another convention. Here, the contestant is in the right seat. She has to fold an aviation sectional chart in the face of many dire challenges:

turbulence (shaking the chairs), an indifferent Captain, strong wind, rain blowing in through an open canopy, and so on. There was even a little toy for the occasional bird strike.


When the competition got a little slow, the Annoyers became the Annoyed. Turnabout is fair play.





This is a bomb factory. Jessie and Joe are helping Anna measure flour into paper bags and tie them off with streamers that will later be used for identification. Anyone could do this with plain brown sacks. This year's gathering was in Maine, so the bombs are styled to look like blueberries. Complete with leaves.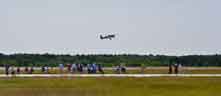 The flour bombing event is paired with Spot Landing. Competitors make two circuits, dropping a bomb each time around. As usual, the safest place to be was right on the target. Here, we see RaDann Dawson getting started.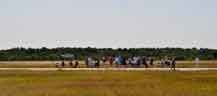 After the bomb drops, the pilot makes one more circuit, returning to land as close as possible to the target line. Here's Kelly Wallace landing. He was close, but not close enough. Ronnie Mowery took the prize.


During all these events, Kim kept hustling for donations to the scholarship fund. There was also an auction and some other donations, which combined to raise over $2500 this week. Nice job. As the flying events were wrapping up, the ice cream truck arrived. It was a warm afternoon, and the vendors were kind of slow. But patience prevailed, and everyone got their ice cream.
There were a few events I didn't attend. You can learn more about them in Don Metz's daily coverage.


One morning I went flying with past AYA president Jörg Trauboth, who couldn't bring his own Tiger because it's based in Germany. This is Twitchell's airport, where pilots can choose among three ways to land. The grass and paved runways are obvious. There's also a seaplane lane, directly below our plane at the moment this photo was taken. Twitchell is one of the few operators that will not only teach you how to fly and land a seaplane, but will let you rent one after you get your rating.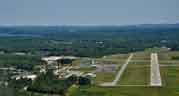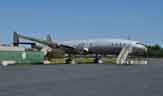 From there, we proceeded to Lewiston, where Lufthansa is restoring an old Constellation to flying status. Not the one you see here, but the one in the hangar behind it. This one is being cannibalized for spare parts. We saw the same plane three years ago, with only a few more parts than it has today.
Despite Jörg's charm, his command of the German language, and his military credentials, the foreman would not let us see the project Connie because we hadn't made an appointment. He was extremely adamant on that point, and barely as civil as he needed to be. I got the impression that even Angela Merkel would not be allowed to see that plane without an invitation.
Lufthansa didn't finish the restoration. The project was taking too long, and costing too much, so the company cut their losses. In 2018, Star of the Tigris, the plane in the hangar, was shipped to Germany for storage at Bremen. In 2021, the plane is being moved quietly to Paderborn, but Lufthansa will not comment on its status, or on future plans.
Connie, the parts plane outside, has been made over as a cocktail lounge outside the TWA Hotel at JFK Airport in New York.
---
on to Harpswell
Airports Competitions Harpswell Bailey Island Botanical Garden Lobster Bake Swinging Bridge Desert of Maine Maritime Museum
Home