Home
Airports Competitions Harpswell Bailey Island Lobster Bake Swinging Bridge Desert of Maine Maritime Museum
to the story's beginning back to the Airport
---
Global warming seems to be on a lot of people's minds these days, but it's nothing new. Maine's coastline has hundreds of peninsulas and islands that were scooped out when a glacier retreated a few thousand years ago. Their outlines show the direction of motion clearly. We spent a bit of time exploring this area, both on our own and with planned convention activities.
Harpswell is just south of Brunswick. The municipality includes Orr's and Bailey Islands. These all sounded appealing to us. I had read an article (actually, two) about Harpswell's Cliff Walk that encouraged me to try it. The articles described a moderately easy hike with stunning views. They also pointed out areas along the trail where we could see and build fairy houses, whimsical dwellings for the forest's leprechauns.
The walk was not easy at all. The trail has a lot of rocks and tree roots, all of it covered with pine needles (slippery, even when not wet). The part leading to and from the highly touted Cliff Overlook was not a simple incline and descent, but a long series of ups and downs. And the fairy houses, …

… well, the fairy houses were there, but not where they were supposed to be. We saw the best of them in the first, level part of the trail, well outside the designated Fairy House Zones. The first one was barely a hundred steps into the trail, hiding in a tree stump. The occupant has a good slab roof over her tiny head, comfortable bedding, and a pine cone to keep her company. The others you see here are also along the level part of the trail, less than half a mile from the trailhead.

To reach the marked Fairy House Zones requires more strenuous walking, and there weren't many buildings there. I guess the fairy construction crews don't like hiking up and down those hills any more than we did. Jessie decided they needed some help, so she built a fairy house of her own. First, she located a piece of bark that would serve as a main wall. Then she sat down to think about her design.

Next, she gathered some other material that would complete a dwelling suitable to the narrative. Her fairies live next door to a bird couple who are awaiting their firstborn, a singleton that will soon emerge from that spotted egg. When the parents are away from their nest, the fairies watch it for them. Their little dwelling is on fairly high ground, so they have steps to get up there. Oak and maple leaves provide some shelter, and the interior has a hardwood floor in back, carpeting in front. Just out of the frame, there's a little garden down below.
When we finally got to the Cliff Overlook, we were rewarded with a fine view of Long Reach, the water that separates this cliff from the rest of Great Island. (There's a much wider view here). We're standing 90 feet above the water. It's three steps forward, then straight down.

Later, I read a more conservative review of this trail, which included a recommendation that I like. Most people hike the trail clockwise. It's better to go the other way. Going clockwise, the trail ends at a recycling plant, which is OK but it kind of wrecks the back-to-nature vibe. Going the other way, you get the hard part of the hike done while you're still fresh. In particular, you can reach the Cliff Overlook without beating yourself up. Finally, the walk concludes with a transition from forest directly to the place where you left your car. If you go here, give a lot of thought to starting out east from that parking lot, not north.
Continuing south on Route 24, we cross Orr's Island and reach the tip of Bailey Island – Land's End. Jessie pauses to survey the house on the little island beyond Land's End. That is really the last piece of land between here and, say, Bermuda. There's a tiny beach to the right below that overlook, but that's not why we're here.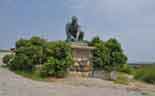 In 1939, Bailey Island fisherman Elroy "Snoody" Johnson knelt to peg a lobster for sculptor Victor Kahill, whose work was meant to be cast in bronze for the New York World's Fair. But Maine ran short of funds, so they displayed a plaster model that Kahill painted to look like bronze. When the Fair closed, the plaster statue was stored for thirty-some years.
Victor Kahill had immigrated to the U.S. from Lebanon in 1909. When World War I broke out, he joined the Army and served in France. He remained there for a few years after the war, pursuing interests in photography and aviation. He was the only Mainer in the crowd that greeted Charles Lindbergh at his historic Paris landing in 1927. When Kahill returned to Maine, he became president of a flying club and organized the first aviation meet to be held in the State.
Kahill also served in World War II, and returned to France afterward to open a night club in Nancy. Then he moved to Casablanca, where he operated one of the best known, most luxurious nightclubs in North Africa. He retired at age 75 and returned to the U.S., where he died in 1965. His original Lobsterman sculpture was still in a warehouse.
A few years after Elroy Johnson also died, the plaster statue was rescued from the warehouse and cast in bronze – three copies. One is on Maine Avenue in Washington, D.C., overlooking the Potomac River. One is in Casco Square in Portland, Me., and one is on Bailey Island at Land's End. The plaque identifies it as
A Memorial to
ALL
MAINE FISHERMEN
who have devoted their lives
to the sea
Just before reaching Land's End, we found the trail to Giant Steps. This level trail is considerably easier than the Harpswell Cliff Trail, unless you want to climb down the Giant Steps and back up again. This girl is looking east, where Nova Scotia is about 200 miles away. We'll see her again in a few minutes, with the rest of her group.
A buzzing noise alerted us to a quadcopter, which Jessie called the "ultimate selfie stick" when she saw how it was being used. The guy walking on the right is controlling it.

He noticed us taking pictures of it, so he directed it to follow us for a while. When it stopped to look at us, we waved, too.
---
One of the convention excursions was a cruise that would take almost all day, including a bus trip from the convention hotel to Boothbay Harbor. We decided to leave early and meet the rest of the group at the pier, giving us time to visit the Maine Coastal Botanical Gardens.

Like all good formal gardens, this one includes sculpture. These are called Fish in the Garden, by Tyson M. Weiss. He'll sell you some for your own garden, if you like them. He estimates that he's made several thousand ceramic fish since he started in 2008.



This summer, the Garden is showing the kinetic sculpture of George Sherwood. There are pieces of his work in stainless steel everywhere you look. This one is Memory of Water. Three bright reflectors rotate in its base to produce the visual effect of water flowing over the outside of it.


These walls demonstrate "garden in a box." The plants are started in milk crates. Isolated examples are abundant throughout the gardens here.




The purple blooms in the last photo are Fake Indigo.
It's kept carefully out of sight for the most part, but an eight-foot black mesh fence surrounds about 60 acres of the Gardens. For years, curators tried unsuccessfully to keep deer from eating these flowers, and finally concluded that the only thing that would work was total exclusion. Small holes in the fence let foxes, squirrels, rabbits, fishers, and other animals pass freely.
A Franklin Tree rises among the sundrops. This will be a beautiful display, but it will take several years. It's a slow growing tree, extinct in the wild. The only living examples have been cultivated in gardens like this one.
All Franklin trees known to live today are descendants of seeds collected by Philadelphia botanists John and William Bartram in 1777. When the tree matures, it will produce fragrant blossoms resembling this sketch from William Bartram's notebook.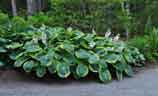 Even the hosta (not my favorite plant) looks good in this garden.


The white blooms are called Rock and Roll.


More of George Sherwood's kinetic art. These little parasols shade the lotus lilies in a frog pond.




This charming fountain is just around a bend from the frog pond.



The Coastal Gardens have fairy houses, too. To find them, you walk down the hill and turn right at the sculpture. Then, take another right at the ten-foot bronze pine cone.

Their conference room is just around the corner. This set is too large for the leprechauns whose places we saw in Harpswell, but the whimsy is the same.



Some of the other structures are definitely sized for human use.


But others are just the right size for wood sprites
---
We almost missed the boat, literally. Because of the tight parking situation in Boothbay Harbor (we were warned!), we got to the pier just a few minutes before the cruise company was about to resell our tickets. But we did catch up with the rest of the convention crowd, and took our place in line for the cruise aboard Bennie Alice. We were soon on our way to Cabbage Island for the afternoon's lobster feast.

It was still foggy when Bennie Alice got underway, so I didn't take many pictures. I made the mistake of thinking there would be a second chance on the return trip. It didn't work out that way at all. But we got a good collection of stories on the way over to Cabbage island, beginning with Mouse Island. That's not the one pictured – what you see here is a tiny island at the harbor entrance. Mouse Island is about a mile farther south.
Mapmakers sometimes make mistakes, and most local folk believe that the name should be Moose Island, to honor a more noble animal that might have been spotted there. Nobody would name an island to remember sighting a mouse, would they?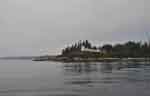 Next, we passed Burnt Island, whose lighthouse guides mariners into Boothbay Harbor.` This was followed by Squirrel Island, probably another misnomer. So far as our captain/narrator could recall, no squirrels have ever been seen on Squirrel Island. Nobody has a clue where the name came from.
From there, we passed between Ram and Fisherman Islands. Skipper assured us we had thirty feet of water under the keel. It was a tight passage, though. It didn't look like we had thirty feet of space between our boat and either of those islands.
As the story goes, farmers grazed their sheep on Fisherman Island. They had mostly females, keeping the males on the smaller Ram Island "for population control." Never underestimate the power of love. The plan dissolved when the rams taught themselves how to swim.
Finally, we passed over Spruce Point Ledge, disembarking at Cabbage Island.



Two large lobsters welcomed us at the top of that ramp.

There were picnic tables here and there around the grounds for us to use, or we could sit inside a large hall. We chose the hall's spacious porch, where we had a refreshing drink before wandering around to watch the proceedings.

Approximately two hundred lobsters are being steamed in seaweed in that cooker down there, along with large amounts of vegetables. The menu for this meal defied imagination and challenged the heartiest appetite.

This was the meal:

Not everybody loves seafood. Scott had the lobsters. Susan opted for chicken. Those who got the chicken also got clams. I don't understand the logic there, and I don't know what they did with the clams.
What about that boiled egg? Traditionally, an egg was put in with the fixin's to let the cook know how long to steam the lobsters. When the egg is hard boiled, the lobsters are done. It's the original egg timer – the egg is the timer.
Those trays didn't look so pretty when the meal was finished, but everyone was smiling. Oh, Jessie also got chicken. She's not a seafood fan, either.

There were nautical decorations scattered around the place. There were also games set up for us to play after we'd eaten all that food: horseshoes, bean-bag toss, badminton, and the like.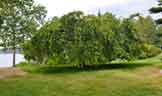 This tree reminded me of the Camperdown Elm that we saw in Friday Harbor two years ago. I wasn't able to learn anything about it, though. Like Franklin trees, all Camperdown elms now living are descended from a single tree.

The whistle blew and we got back onto Bennie Alice for the return to Boothbay Harbor. We passed Our Lady Queen of Peace, the town's famous church,
and filed onto shore at just about dinner time. Funny thing, nobody acted terribly hungry. The convention schedule called for "dinner on your own" this evening, but there were very few takers.

Cute dinghy. Is it really for play, or is there a letter missing from its name?
Boothbay Harbor even has a Head Shop. It felt like we'd been time-shifted back to the Sixties. Jessie bought a new sweater there because she liked the design, so I guess they know what they're doing.
---
Brunswick grew on the Androscoggin River, which separates it from Topsham ("Tops'm") on the north side. Many workers at Brunswick's Cabot Mill lived in new houses in Topsham, so the company commissioned a pedestrian bridge to enable them to get to work more easily. This light suspension bridge, designed and built by John A. Roebling's Sons in 1892, was added to the National Register of Historic Places in 2004.
The bridge was rehabilitated in 2006. It's called the Swinging Bridge because it's very narrow compared to its length, giving rise to a very noticeable swaying motion – especially if somebody rocks on it, mid-span. When she had finished swinging the bridge, Jessie just paused a while to take in the view.

John A. Roebling's Sons also built New York's Brooklyn Bridge. Here in Maine, there are small town parks on each side of the bridge. We found it via a roadside turnout, but it's also connected to the popular Androscoggin Riverwalk.
---
Ten or twelve thousand years ago, New England was covered by a glacier. When the Ice Age ended, the glacier ground the underlying rocks into fine silt as it receded, forming a layer up to 80 feet deep in parts of southern Maine. Gradually, topsoil capped this stuff, allowing forest to develop and supporting agriculture.
William Tuttle bought 300 acres of this excellent farm land in 1797, but he wasn't very good at long term planning. He grew potatoes, and raised cattle and sheep. But he didn't rotate his crops and he let the sheep overgraze the land. Soon his topsoil was all gone, exposing the glacial silt that had been hidden for centuries. Bit by bit, erosion claimed all of Mr. Tuttle's farm.
Despite the best efforts of generations of Tuttles, the farm never recovered, and the family abandoned it by the early 20th century. Henry Goldrup bought what was left of the farm in 1919, and opened it to tourists six years later.

A live camel named Sarah was once part of the setup, but she had a foul disposition, biting visitors and spitting on them. So Sarah was retired to a local zoo, and replaced by these two much more user-friendly statues.
Tim was our tour guide, driving us around the place in this luxurious coach. The landscape has continued to evolve since Goldrup came, and forest has begun to reclaim the land. Where there were once 300 acres of desert, only 51 acres of silt are still exposed.

It was fairly mild for our trip through the desert, only 88°F this morning. Two days ago, the temperature had reached 100° by this time of day; the record high is 126°. We motored around the property, but we could have taken the same tour on foot. As the basket implies, visitors can also sample the Desert of Maine while playing Disc Golf.
Glacial silt is much lighter than ordinary sand; the least bit of wind blows it around like fine powder snow. This pole is on the site of an old spring house. Goldrup discovered a natural spring here and built a house over it in 1935. After touring the hot sands, his visitors appreciated the refreshment of a cold drink. But like a snow fence, the spring house served as an anchor for the blowing sand. Soon it was obvious that it would be covered, and somebody affixed a ten-foot pole to its rooftop before completely giving up on the structure. That was in 1962. Shifting sand obliterated the spring house, but today we can still see the top two feet of that pole.

At the downwind end of the remaining desert, a 90-foot dune has developed, with forest returning to the lee side of it. One year, L.L. Bean shot their winter ads here, using black and white photography to make the sand look like snow. The ads were realistic and convincing, but Bean never repeated them. They had to do the shoot in August for the winter catalogue, and the models had problems with heat exhaustion. The contrast between the hot sand and the shady grove is quite stark.


It's also quite refreshing, even on this day of only moderate heat. As our tour winds through the woods, we see that the Disc Golfers get some time in the shade, too.

Shifting sand has caused some unusual patterns of growth. When this pine tree was young, the surface was fifty feet lower than it is now.
As the blowing silt ("don't call it sand!") buries its trunk, drooping branches come into contact with the surface, where they are transformed into roots.
Some old farm implements have been strewn about the place, trying to leave the impression that they've been undisturbed since William Tuttle's time.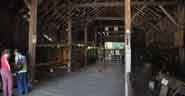 Tim told us this barn had been built in 1783 and moved here in 1791. He didn't explain how this happened before Mr. Tuttle bought the place in 1797. But there's no doubt that the barn is over 200 years old.



Not all of the farm tools are outside.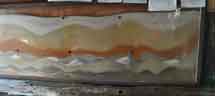 One end of the barn is called the Sand Museum. There are artworks here that were made from the 14 different colors of sand silt that can be found at the Desert of Maine. For a small fee, they'll sell you a bottle and you can make one of your own.

There's a butterfly house, too. Nothing exotic, most of the residents we saw were Monarchs. You need to watch your step, because the Mourning Cloak blends well with the shadows on the ground. Before the complex opens for business each day, the staff inspect and clean the butterfly house. Chipmunks are all over the place, and they eat the butterflies. Children are put off by the sight of butterfly parts lying around.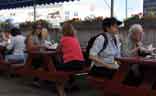 Before leaving Maine we ate at the lobster pound, a delightful waterfront lunch and a good counterpoint to our desert safari.

This lady isn't trying to escape from anything. She's just advertising the fact that we're in So.uth Free.port, Me.


Jessie wanted to try the lemon meringue pie. She got the whole pie.
---
on to Maine Maritime Museum
Airports Competitions Harpswell Bailey Island Lobster Bake Swinging Bridge Desert of Maine Maritime Museum
Home