Home
Saugatuck Burlington Geodes Nauvoo Convention Tiedowns Beaumont Hutchinson Lucas Dodge City Hot Springs Garvan Gardens Crater of Diamonds Petit Jean Gastons Cahokia Mounds St. Louis
to the story's beginning back to Hot Springs
---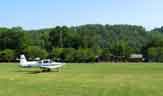 Before leaving Arkansas, we flew back over Petit Jean Mountain to spend a night in the Ozarks at Gaston's White River Resort. This is a special fly-in destination. The tiedown area is just a few steps from the office.
Trees line the runway on both sides, giving some shelter from crosswinds. But we didn't need that. It was flat calm when we landed. The airstrip is on the White River, just a couple of miles downstream from the Bull Shoals Dam. There is a row of cabins between the airstrip and the river, so every guest has a good view of each. This was our cabin, and the river view from those two big trees.

Barbara found another kind of guest accommodation. This is a barn swallow, just outside the office.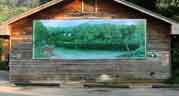 The mural is on a utility shed above the boathouse.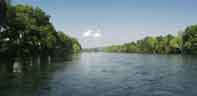 Bull Shoals State Park is right there, but many guests never leave Gaston's. The river is clear, cold, and fast; it's famous for good trout fishing. The ripples on the water surface give a clue about the fast current. Remember, there's no wind.






Some of the water runs slowly.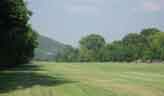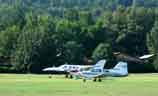 Many people just fly in for a meal. We watched this Cessna land. Not long after, a larger Cessna landed and tied down next to him.
It's good food with a great view of the river. If you want to eat some fish you caught, they'll cook it for you.


These people were obviously waiting for someone, who turned out to be a guy from Oklahoma in a Bellanca Tri-Tail. You don't see those very often. He's on short final in the first picture, above the head of the man in the light shirt.

As afternoon turned into evening, the cold water started to do its work. Fog forms on the river like a blanket. If you look at the pilings by the waterline, you get an idea just how fast the river is moving. Those boats come with the cabins (but a motor is an extra-cost option). They let guests leave from the berths you see here, but they may only return the boats to slips that are oriented directly upstream.
You can almost watch the fog forming. These pictures were taken less than ten minutes apart.

The fog stayed on the river, but nowhere else. Here's that same tree on Friday night, and again on Saturday morning.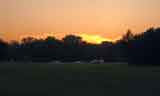 We wouldn't want it any other way.

---
on to St. Louis
Saugatuck Burlington Geodes Nauvoo Convention Tiedowns Beaumont Hutchinson Lucas Dodge City Hot Springs Garvan Gardens Crater of Diamonds Petit Jean Gastons Cahokia Mounds St. Louis
Home