Home
Michigan City Sioux Falls Billings EBR-1 Craters of the Moon Mount St. Helens Copalis Convention Arlington Friday Harbor Victoria Butchart Gardens Chemainus Haida Gwaii Louise Island Saskatoon Munising Pictured Rocks
to the story's beginning back to Friday Harbor
---
Haro Strait is six miles wide where it separates Friday Harbor from Victoria, British Columbia's capital. Queen Victoria chose the province's name when its mainland portion became a colony in 1858. At the time, the region between the Rocky Mountains and the Pacific Ocean; and between 42°N and 54°40′N Latitude, was known as the Columbia district. In modern terms, this is between California, then under Mexican control; and the Yukon, which was Russian. In 1846, the Oregon Treaty subdivided the Columbia District at the 49th Parallel, so the new colony was named to distinguish it from
"American Columbia." Originally, Vancouver Island was a separate colony; but it could not recover from a series of financial crises, and it joined British Columbia in 1866. The colony's seat of government moved to the island capital, Victoria. As we see high on the Parliament building, the coat of arms is supported by a wapiti (elk) for Vancouver Island and a bighorn sheep to represent the mainland. The statue on top of the dome is a lifesize gold likeness of Captain George Vancouver, who first surveyed the Pacific Coast for England in 1791-95. The new capital became the western terminus of British overland trade routes, and has always been a proud symbol of the Crown. Because of its appearance and the manners of its citizens, it is often said that Victoria is "more English than England."

There are some reminders of who was here first. Crossing Belleville Street from the Parliament buildings, we find the Kwakiutl Bear Pole, carved by Henry Hunt to commemorate the centennial of British Columbia's 1866 unification. Henry Hunt was a student of master carver Mungo Martin, whom we'll encounter later in this story. He was also Martin's son-in-law.
While the Bear Pole overlooks Victoria's Inner Harbor, the Knowledge Totem stands right on the grounds of Parliament. It was carved by Cowichan Master Carver Cicero August and his sons Darrell and Doug August. This pole was raised in 1990 to welcome visitors to the XV Commonwealth Games in 1994. The figure at the base is Frog, from an old mountain story. In some clans, Frog is a symbol of wealth; other clans believe that he can call back the dead. Next is Bone Player, showing a friendly form of communication among people who don't all speak the same language. There is a fisherman – the sea is a major source of life here. The Knowledge Pole is topped by Loon, the teacher, symbolizing the importance of native traditions.

We stayed in Victoria's James Bay neighborhood, in the city's third oldest hotel. Being just four blocks from the main intersection, we could walk to most of the places
we were here to visit. The hundred-year-old hotel's lobby is more like a living room than a foyer, inviting visitors to pass a little time there. You could listen to the radio, or play chess. OK, the radio doesn't get much use nowadays.
In the spirit of this most British city in the New World, we knew we had to find a tea room, and we did that easily. Afternoon tea became a cultural institution during Queen Victoria's reign. It's not only a drink, it's a meal. This photo shows service for two, but we couldn't finish it. The top tier became our desserts for a couple of days.
Victoria has the mildest climate of any place in Canada. The temperature almost never dips below freezing, even at night; daytime highs rarely break seventy degrees. Snow rarely falls here, and it never lasts long. The entire city is a year-round garden. This topiary is a reminder of a favorite local mammal, which can occasionally be seen without leaving dry land.
James Bay is a neat, attractive part of the city. The plaque on the white house identifies it as "White Heather Cottage."

It's not all old-fashioned. The Reef, begun in 1955, offers fine views of the inner harbor and the Olympic Mountains across the Strait of Juan de Fuca.
Elsewhere in town, they take their coffee Seriously, even if one guy looks like he stayed up a bit too late.
You can also get poutine in a hurry. Poutine is an acquired taste. It's made from French Fries, cheese curds, and brown gravy. I'll spare the reader a picture of this mess. It's a wonder anybody would eat it if they could see it first. Some use it as a remedy for a hangover, others see it as a heart attack waiting to happen. It's customarily served in a Styrofoam bowl, even if you buy it indoors.
De Zingende Toren (The Singing Tower)
The Netherlands Carillon was a gift from B.C.'s Dutch community to honor Canada's Centennial in 1967. Queen Juliana came here from Holland to unveil the cornerstone. There are 62 bells at the top of this 89-foot tower, played by a musician who climbs 75 steps to reach a 10-step ladder before he can play the keyboards. In the background is the Royal B.C. Museum.

Family Group
Jack Harman

courtyard,
Royal B.C. Museum
We had a few brushes with Emily Carr's spirit during our week in British Columbia. Here in downtown Victoria, sculptor Barbara Paterson has given the artist a permanent place of honor with her sketchbook, her monkey Woo, and her dog Billie.
Emily Carr was born in Victoria and grew up here, just a block from our hotel. Her home is now a museum, but it wasn't open during our visit. She was first exposed to her muse on a visit to the west-coast village of Ucluelet in 1898. After a few years in France, she returned to visit the Queen Charlotte Islands and the Skeena River in 1912. In Cumshewa, she painted a carving that later became the study for her iconic 1931 painting Big Raven.
When Carr returned from her 1912 trip, her work was not well received, so she ran a boarding house for several years to make ends meet. Eric Brown, director of the National Gallery, was persuaded to visit her in 1927. As a result, he invited her to exhibit her work in Ottawa. The exhibit was also hung in Toronto and Montréal. This show got the attention of the Group of Seven, a renowned association of Canadian landscape painters. Although she was invited to join the Group of Seven, Carr never became an official member. Several successful exhibitions followed, securing Emily Carr's place among the giants of Canadian art. She found further success in a second career as a writer, which she pursued after failing health prevented her from travelling. She succumbed to her fourth heart attack in March 1945, at the priory down the street from where she was born. If she had lived a few weeks longer, she was to be awarded a doctorate by the University of British Columbia.
"To have been permitted to give pleasure by writing and painting the plain simple things of my life fills me with the deepest gratitude."
Purely by dumb luck, our visit to Victoria coincided with two big street parties. One was the International Buskers Festival, street theatre at its finest.

You can say anything you like to Plasterman, but don't expect to hear him answer. He's Clark M. Clark, "Master of Stillness." He quit his day-care job here in 1999, and has been earning a good living – silently – on the street, ever since.


Vesta Four kept the crowd spellbound on the lawn of the famous Empress Hotel with a breathtaking fire dance.
One of the most engaging performers was Tallulah, whose real name is Sharon Mahoney. From Ontario, she's been working her solo act in Victoria since Canada Day 1999. She organized the first Buskers Festival in 2012.
As Tallulah (yes, after Bankhead), she really gets the crowd involved. Her act includes five recruits from the audience – the first four do most of the work. After equipping them with the necessary safety gear, she has her volunteers support her in a variety of stunts, most of which go the way she plans them. ("Hey guys, I'm not that flexible!") She even works in a little fire dance of her own.
Ninth from left above the Inner Harbor Causeway, the guy in the green shirt is Tallulah's fifth recruit. Buskers aren't exactly on salary. Every viewer who walks away with his money means lost income. Tallulah isn't shy about explaining how she makes a living, and exhorting the crowd to contribute to her well-being. That includes the people out of reach behind that wall. So she told the last "volunteer" to circulate up there and collect her money, which he was then to deliver to her. Nobody gets away for free.
"Nobody can be exactly like me.
Sometimes even I have trouble doing it."
Not just a port city, Victoria is also a fishing center. Fisherman's Wharf is home to the fleet as well a popular tourist spot. In the fishing heyday, boats were tied up two or three abreast in the off-season. When the weather improved, they sailed off for months until they
returned with their catch. Fishing began to decline in the 1990s, to the point where a fleet of hundreds is now represented by a mere dozen boats. The activity didn't go away, it just changed. Fish markets have been replaced by tourist booths and cafés of all descriptions. Folks come here to shop, go whale watching, and even to fish.

In the spirit of this week, there are also buskers to entertain us.





The pilot's eye is drawn to a structure at the harbor entrance that looks like a control tower cab. That's exactly what it is, after a fashion. As a sailing vessel returns from a dude cruise, we watch a commuter plane approach and splash down in the busy harbor.

Victoria Harbor has three or four heliports and this seaplane landing area, all within a control zone that has a Mandatory Frequency. This is the same service known in the U.S. as Local Airport Advisory, except that pilot participation is required. There's a specialist in that control tower who issues weather and traffic advisories to everyone who flies here, and provides several essential coordination services. But she doesn't clear anybody to land or take off. Responsibility for that separation still rests with the pilot.




This little statue and the musicians are drumming up business for a pirate cruise aboard Black Spirit. Customers arrive early enough to be
"transformed," getting into pirate gear and makeup. Then they cruise around for an hour and a half before they have to return to civilization.
We couldn't say for sure, but this girl looks like she's still sporting an eye patch and a scar from somebody's dagger.






When the fishermen clean their catch, there are always customers waiting for leftovers.

Even in the boom times, Fisherman's Wharf wasn't continually occupied by trawlers. When the work boats went to sea, some floating homes took their place. There were trimarans, Chinese junks, and some floating things
that defied description. Many of these occupants didn't bother to pay their fees, so the wharfinger would sneak down in the dark and unplug the delinquents, leaving them without heat. The people just waited for him to go away, crawled out and plugged back in, and went back to sleep.
As the fishing fleet shrank, live-aboards gained more space. People and boats would come and go, and the place always had a strong eclecticism and air of independence. Not quite like Black Spirit, but definitely
headed in that direction. In 2002, the Greater Victoria Harbour Authority took over management, and began trying to run this place as an actual business.


The community is definitely not mainstream, but it's friendly and tolerates us gawkers well enough. They know we go away at night, and they're generally folks who like the daytime activity.
This guy must have spent some time on a trawler. Those cell phones look like they've spent a lot of time on the bottom.



A sign identifies this place as Sleepless in Victoria.





There are businesses in the houseboat village, too. This one is a Mexican restaurant.

The blowfish was hand-made in Haiti from a used oil drum. The starfish are probably natural.

Visitors and residents alike can rent kayaks to get around in Fisherman's Wharf. Presumably, they could also use them to commute to government jobs at the other end of the harbor. It's only half a mile away.

But the water taxi is a lot more convenient, isn't it?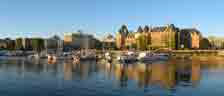 That taxi will drop you off right across the street from Parliament, or across another street from the renowned Empress Hotel. This Edwardian masterpiece has been rightly called "the heart and soul of the city." It serves afternoon tea to more guests than most hotels in London, England. After the Dominion, this is the oldest hotel in Victoria, built in 1908. This scene shows the hotel's commanding view of the inner harbor, as well as the causeway at lower right. That's where we saw Tallulah and several other street artists. If you'd like a closer look, there's a much larger version of this picture here.
The hotel's entrance is guarded by a pair of eerie topiary Afghan hounds.

---
During our visit, Victoria's other street party was a gathering of cars known as Northwest Deuce Days. This rally was first held in 2000. Now it comes back to Victoria every three years, drawing cars from all over Canada and most of the United States. It doesn't seem to bother anyone that it happens in Canada's southwestern-most city.
Deuce is an exact term. It means a 1932 Ford Coupe, the featured car for this event. All makes and models were registered, but the Deuces got top billing. In 2007, the 75th Anniversary Deuce Days featured over 400 of the 761 '32 Fords registered world-wide.
If you're restoring an 80-year-old car, anything goes. This is a 1934 Ford, but the engine is by Chevrolet.


According to an article in the local paper, nearly 1000 vehicles came to the party (over 200 from California), and Victoria's population temporarily grew by about 60,000.
I remember trying to keep whitewalls clean. It's a safe bet this car arrived in a closed trailer.

Registration was limited to cars made no later than 1951, but newer stock was not turned away.

Not all vehicles had four wheels, either.


All Corvettes were built after the 1951 registration limit, but they were here in abundance.
With all the work the owners put into these cars, it's not surprising that the license plates also get special attention.
One-horsepower transportation nicely complements the hundreds of antique cars. These carriages were all over the downtown area, streets and parks. There's even a taxi stand at the Empress Hotel.



Larger groups need a little more horsepower. There's also a more personal type of carriage available.

---
The fortifications on Rodd Hill were built after 1878 to protect the city of Victoria and the naval base at Esquimault. Temporary batteries were built during a crisis between England and Russia, with the permanent installation being built in the 1890s. The last British troops stationed in Canada transferred control to the Canadians in 1906. By the end of World War II, the fortifications had been rebuilt and greatly expanded. By 1956, the facility was deemed obsolete, and closed.
There are three gun batteries, underground magazines, buildings, and searchlight emplacements. The tour begins with an anachronistic reminder that nobody really knows who won the War of 1812.

Re-enactors keep us entertained on the parade ground. Today's theme is World War II.
This is the entry to the upper battery's magazine.
The people in the background are entering an electric light station. Powerful searchlights were installed here and across the harbor entrance at Duntze Head, in 1906 – two lights at each station. Three lights illuminated a broad area immediately outside the harbor. The fourth was a narrow beam that swept the sea beyond the area reached by the three wide-angle lights.

The lower battery, as viewed from seaside. The house on the hill must have one of the best views in Victoria, looking down on the photographer's position on the lower battery, and then out to sea.



The lower battery also had a plotting room. Built in 1940-41, this bomb- and gas-proof room actually had no connection with the defenses on Fort Rodd Hill. It was the computer center for long-range gun batteries elsewhere in the vicinity.
With its own telephone exchange and degassing plant, this room could feed target information to distant batteries even while under attack. When radar was introduced here after the war, the huge mechanical plotting computer at the heart of things became obsolete. The room was then modified for other services, and eventually closed down in 1954.
This is one of the six-inch disappearing guns that were used in the lower battery. Most of the time, the gun was protected behind a concrete emplacement. It was mounted on a kind of scissors jack so it could be raised and fired quickly, then dropped back down to safety. This gun could fire a 100-pound shell almost 7 miles. It was very accurate, but the "disappearing" feature meant a degraded firing rate. A well-trained crew could fire one shot every two minutes.
This 9.2-inch gun is sitting on its "gun drug," a carriage used to move it around. No beasts of burden were used to move this 28-ton monster, just strong soldiers and plenty of ground tackle. The wheels are made of concrete, cased in steel.
During the 1950s this 90-mm anti-aircraft gun was used in the Victoria-Esquimault defenses, but not at Fort Rodd Hill. That's probably why they put it next to the parking lot. It could fire 22 rounds a minute, up to 30,000 feet high.
You can stay in the park, if you like. These five platform tents can each accommodate up to six people, and the rental rates are reasonable. There are no showers here, but the park staff will tell you where to find some. You're always welcome here, except maybe when it's time to leave.

Fisgard Lighthouse is adjacent to Fort Rodd Hill, but there is no historical connection between the two structures. It was built in 1860 as the first permanent light on Canada's Pacific coast.
The visitor can get to the lighthouse by a short, pleasant walk along the causeway in the first picture, complete with a time check.

It's a good place to watch for seaplanes coming and going in the inner harbor.

The light was automated in 1928, so the building is a museum now. The poster behind the stove shows the grocery list for an 1860 lightkeeper whose diet included a lot of salt beef and pea soup. It doesn't look very appetizing.
Salt Beef or Pork in equal quantities – 56 lbs
Fresh Beef – 56 lbs
Flour (in Barrels) – 136 lbs
Brown Sugar – 15 lbs
Tea – 3 lbs
Coffee – 12 lbs
Split Peas – 3 gallons
Raisins or Currants – 2 lbs
Salt butter – 7 lbs
Vegetables – 90 lbs

The model is looking past her photographer at Fort Rodd Hill's lower battery, just beyond the causeway. If she would only turn to her right, she'd have an excellent view of British Columbia's oldest lighthouse.

---
Chief Mungo Martin (1879-1962) was born in Fort Rupert, at the far end of Vancouver Island from Victoria. He was a noted sculptor, painter, and singer/songwriter. He used his art and influence to promote the cause of Indians ("First Nations") in Canada, especially for the Pacific Coast tribes. He was a respected artist even as a young man, carving his first commissioned totem pole in Alert Bay in 1900. He became famous for carving and restoring many sculptures and ceremonial objects, and for conducting the first public potlatch after the Canadian government lifted their 1885 ban on the practice.
In 1952 he hired on at the Royal B.C. Museum, where he carved several totem poles that were raised in prominent locations around the world. He adopted his wife's grand-daughter Helen, who married Henry Hunt, carver of the Kwakiutl Bear Pole. The collaboration between the Martin and Hunt families was long and productive. Both families moved to James Bay to be close to each other and to Thunderbird Park, the cultural site adjacent to the museum where they did much of their work.
Early in 1956, Mungo Martin, his son David, and Henry Hunt began work with native adzes and knives on what was to be the world's tallest story pole. Lumberjack Ted Shaw selected and felled the tallest, straightest cedar he could find in a large stand in Sooke. The tree was dragged to Muir Creek, towed to Inner Harbor, and carried to Thunderbird Park, where the three master carvers went to work. On 2 July 1956, the finished pole, 127 feet 7 inches tall, was raised on Beacon Hill overlooking the Strait of Juan de Fuca. Its place as the world's tallest totem pole stood until another group of Kwakiutl artists carved and raised a 174-foot story pole in Alert Bay, B.C.
It's said that only those people who were present at the raising of the pole can tell its story correctly, but there's a plaque nearby that tries to record it. The text on that plaque is reproduced here, and you can follow some of the figures in this detail view (caution – tall photo!).

The Legend of the Totem
---
The ancestral figures on the world's tallest totem pole are associated with the Gee-eksem clan of the Kwa-Kiutl tribe of coast Indians from Fort Rupert, near Port Hardy, British Columbia. Bottom figure is Gee-eksem, legendary First Man of the tribe, said to have been created at Gold Beach on the north end of Vancouver Island.
Gee-eksem one day saw a strange sight. A totem pole gradually rose out of the beach. On the pole were all the animals now carved on the pole, each making its own peculiar cry. The bottom figure was that of a man who said to him, "These be your crests to be displayed by you and your descendants." The pole then disappeared. At no time during the long history of the tribe have all the figures been displayed on one pole until this one was carved by Chief Mungo Martin and his associates.
Next above Gee-eksem on the totem pole is Hohoq the cannibal bird. Next is Mukinookw the killer whale, then Kle-akin the sea lion with the brown back. Kwikw the eagle, the grey colored sea otter with a halibut in his mouth, Gwoy-im the whale with a man on his back, the mouth being the whale's blow-hole with a man's face at the tail, both added decorations.
Then comes T-sow the beaver with two prominent front teeth, Lak-tote-pis, the servant man of Gee-eksem, then Miquat the seal with the spotted back, Uli-gun the black wolf, and Hosagami, Gee-eksem's potlatch record-keeper.
The two men at the top are "First Men" of other clans of the tribe, La-lox-undyu, who was born a Kolus, a mythical bird which was covered with down and never grew feathers, and Sinklah-ee, who was first created as Klesela, the Sun.
The average story pole lasts about fifty years. Traditionally, the poles are allowed to decay and return to Earth, so their stories can continue for future generations. They are meant to be replaced by newer story poles. Over the years, this pole was repainted four times, with some carpentry done as needed. In July 2000, workers determined that the pole had accumulated too much decay to stand safely, so it was lowered for intensive rehabilitation. Following an enormous community effort, the renovated story pole was restored to its spot and re-dedicated on 3 November 2001. Most recently, this pole was repainted in 2011. The city has said that it will be lowered for the last time within ten years, to return to Earth naturally.

The story pole is in a prime location in Victoria's Beacon Hill Park, a green zone in the middle of the city. The park was reserved in 1856 by Sir James Douglas, Governor of Vancouver Island Colony.

There were several disputes about ownership and responsibility here; the park was withdrawn from city limits and transferred to the Colony in 1869. In 1882 the land was returned to the City of Victoria, on condition that it be held in trust as a park. At that time, it was named for the range lights that kept mariners safely away from Brotchie Ledge.
The park remains a jewel in the center of Victoria, where it's a delightful place for a scenic walk down to the beach.

Or, if you're so inclined, to watch for more seaplanes headed for the inner harbor.

In the center of the park, there are Victorian gardens, …


… fountains and bridged streams, …





… even a miniature golf course, a cricket pitch, and a lawn bowling club. Never forget, this is British Columbia.

Also in the center of the park, there's a petting zoo. It's officially called the Children's Farm, with the intent to educate visitors about farm experience and infuse children with a respect for animals. The peacocks don't mind the fences. They may be found all over the park, even on the road and in the trees.


The Trans-Canada Highway begins at the southwest corner of Beacon Hill Park. Continue past the Mile-Zero marker on Dallas Road and you'll usually see some very small boats.
These are radio-controlled models, sailing on the 260×100-foot Harrison Yacht Pond. When the pond was built in 1955, there were no trees behind it on this bluff, so sailboats had plenty of motive power. Nowadays, RC motorboats are more common. Some folks like to drive, and others just come to watch.

Some of the models aren't even boats.

We were impressed by an arbutus (madrona) tree in Friday Harbor because we had never seen one before. We were not at all prepared for the magnificent examples we were to see in Victoria. The first one graces the Empress Hotel's lawn. Beacon Hill Park has a road called Arbutus Way, where you may find several of these trees. But the champion is a few hundred feet from the end of that road, across from the Children's Farm. After they pet the goats, everyone wants to climb the tree.
Beacon Hill guided ships in from the sea. From the beacons' vantage point, we can get a spectacular water view. The mountains across the strait are Washington's Olympic Range.

There is a much larger version of this scene here.
---
on to Butchart Gardens
Michigan City Sioux Falls Billings EBR-1 Craters of the Moon Mount St. Helens Copalis Convention Arlington Friday Harbor Victoria Butchart Gardens Chemainus Haida Gwaii Louise Island Saskatoon Munising Pictured Rocks References
Home