Home
Michigan City Sioux Falls Billings EBR-1 Craters of the Moon Mount St. Helens Copalis Convention Arlington Friday Harbor Victoria Butchart Gardens Chemainus Haida Gwaii Louise Island Saskatoon Munising Pictured Rocks
to the story's beginning back to Skedans
---
We left Masset as we had arrived, on an instrument flight plan. We're heading for Prince George, which isn't far away but it's near the western edge of the Rockies. So we'll spend the night there, and cross the big rocks in the morning. When I was planning this trip, I allowed for a fuel stop at Terrace, but we didn't need it; a light tailwind got us to Prince George non-stop, with plenty of fuel for IFR reserves. The fact that Terrace was overcast and Prince George had good weather made the decision even easier.
Hecate Strait was fairly clear; but as we approached the mainland, we also approached the clouds beneath us. Here, we're crossing Goschen Island toward Ogden Channel, looking just like it does on the sectional chart.

A couple of minutes later, we're over Kitkatla. This was the site of a Tsimshean village that traded extensively with Skedans. There is a story that the chiefs of the two villages had an ancestor in common.


It wasn't long before every mile started looking the same. I took this picture over British Columbia, but it could have just as easily been over Florida.



Every once in a while, we got a peek through the clouds that reminded us where we really were. Here's the Kitimat River and some mountains near Hawson Peak. Definitely not sea level, and definitely not flat.
We had a great time on the West Coast and in Haida Gwaii, but it came at a price. For three days on the westbound run, we did little more than fly. Now we're about to do the same thing eastbound. It would have been good to spend a little more time getting acquainted with our overnight stops, but it just wasn't in the cards. I knew it would wear thin, and it did. So we made time for a couple of days in one place, in Michigan. First, we had to get there.
Prince George is near the geographical center of British Columbia, but it feels remote. It's at the junction of the Fraser and Nechako Rivers, two significant water routes. Major east-west and north-south railroads cross here, as do parallel highways. This city of 70,000 is often called the "Capital of Northern British Columbia."
Pilots know it as the southern end of the "Trench," a popular route between Montana and Alaska.
All of this infrastructure is here to get lumber from the forests to wherever people are building things out of wood. Mr. PG was first built in 1960 to carry wooden good will to parades throughout the region. The original didn't last long, and was replaced by this 27 foot tall steel-and-fiberglass successor. This cheerful guy stands at a major intersection to assure that all visitors will get a smiling welcome to his city.

So. Here we are in Prince George, named for Britain's King George III. Yesterday we left the Queen Charlotte Islands, once named indirectly for his wife. During the one night we were there, a new Prince George – also named for George III – was born to the Duke and Duchess of Cornwall. On Mr. PG's Facebook page, it was noted that the future King of England bore a strong family resemblance to our local hero.

---

The next morning was CAVU for our Rocky Mountain crossing, with light wind. Ideal conditions, and easy visual navigation. Just follow the Fraser River into Alberta. The McGregor
Range is a front range for the Rockies. The water is glacier melt, which carries some of the rock flour the glacier ground up before it was done melting. We don't see this color back East.

We're still ascending the Fraser past McBride and its airstrip, and on over Dunster. The valley is still comfortable, but it's starting to narrow down a bit.

The river passes Mount Robson, highest in Canada's Rockies at 12,982 feet. It's not the highest in British Columbia, though. That distinction belongs to Mount Waddington (13,103 feet), in the Coast Mountains down toward Vancouver.

The Fraser River can't cross the Continental Divide, but we can. We pick up the Miette River at Yellowhead Pass and follow it through the Jasper townsite, which we visited on the ground in 2009. Back then, we got to spend three days in the Rockies. Today, just under an hour. For the rest of our trip, it's essentially all flat land.




Our lunch stop was at Edson, Alberta. Edson would be a pretty good overnight stop. The airport is right next to the town, and the town is barely a mile from one end to the other: no car needed. Immediately adjoining the airport,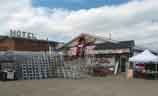 there's a motel. Walk past the motel and one of the biggest hardware stores around, and you'll find the bus station, which has a busy diner inside. While we were eating, a bus pulled up and the proprietor took care of the whole load without missing a step.

The city is the FBO at Edson. There's usually nobody in the airport terminal, but the building is open. Inside, you'll find a pay phone with a number to call. It only takes a couple of minutes for the attendant to show up and handle whatever services you need.
Here are some aerials from the afternoon leg of a very long flying day.
Drayton Valley airport

North Saskatchewan River
Warburg, Alberta
Camrose, Alberta
Battle River, Alberta
Neilburg, Sask.
and its airport
Crossing Alberta, I became acquainted with another unfamiliar symbol on the sectional chart – oil wells, which don't exist at home. The chart example is from Texas, but the aerial scene is definitely from Alberta.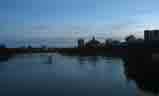 This day ended at Saskatoon, where we were hoping for a sunset cruise aboard Prairie Lily. We missed the boat, so we had to settle for a walk around the neighborhood as we watched Prairie Lily head downtown. We'll try to get here sooner, next time around.


Denny Carr was a popular radio announcer who took his daily run past this spot on the South Saskatchewan River. He did a lot of volunteer work and was known for his tag line, "What have you done for someone today?"

---
One more marathon flying day, and then we'll relax a bit. Today's mission is to return from Canada. After covering the required preliminaries with U.S. Customs, we left Saskatoon behind. Here we're passing the capital city, Regina.
The long, straight road follows the 49th parallel, which separates Canada from the United States. The town in the center is Portal: Saskatchewan on the left, North Dakota on the right. Just beyond the town is the nine-hole Gateway Cities Golf Club, mostly in Canada. The ninth green is in North Dakota. In summer, you can tee off in Saskatchewan (Standard Time) and finish the hole an hour later (Daylight Time).


We cleared U.S. Customs at Minot, home of the Dakota Territory Air Museum. The museum owns five warbirds, which came home in formation just as we were concluding our business with the government. They flew an impressive, elegant overhead break, and two of them taxied over to our side of the airport. The taildragger is an actual Japanese Zero. not a T-6 in disguise. The Zero is a rare plane, so most of the "Zeroes" we see in the movies are similar American planes that have been painted to look like that most maneuverable Japanese fighter.


Not long after lifting off from Minot, we passed Granville, North Dakota.

This interesting texture is near Michigan, N.D., a few miles east of Devil's Lake.



The meandering Red River forms a state boundary as it splits the city of Grand Forks. North Dakota on the right, Minnesota on the left. This is one of the few rivers in the United States that flows north. This water will flow through Winnipeg, becoming the Nelson River before it drains into Hudson Bay.
We spent the night in Bemidji. We've been to Bemidji before, and didn't take any pictures this time around. It's the birthplace of Jane Russell, Paul Bunyan, and Nanabojo. You could look it up.

The next morning, we had some more instrument flying ahead of us. This was OK, because the day after was forecast to be a beauty, and that's when we were finally going to stop pushing so hard and savor the scenery a little more. On our way to Munising, we watched the Lake Superior shore

disappear, somewhere over Wisconsin. Then the view was "gentleman's IFR" for a while, …



… before it got to be more like work and I stopped taking pictures. One last instrument approach for this trip, and we landed at Marquette. Munising was still an hour's drive away. While we were driving, it stopped raining. Life is good.

---
Munising has an airport that would have been quite suitable for us. But there doesn't appear to be any way to rent a car in town, and we wanted a car for touring the Pictured Rocks National Lakeshore. There's a shuttle bus into town, which is great for those who only want to take one of the cruises. We rode the cruise boats, but there were some other things we also wanted to see. So we accepted the fate of some quality time on Michigan's Upper Peninsula highway system.
All of the rock in this area is sedimentary; this was once an ocean floor. The base layer is the 500 million year old Jacobsville Formation, which supplies the familiar white-mottled, deep-red sandstone that is seen all around this part of Lake Superior. This layer eroded for a few million years, and was then submerged. Eventually, the lime and sandstone Munising Formation was deposited onto its irregular surface, in groups known as Members. This part of the landscape is "only" about 200 million years old. Because of undulations in these layers, some of the lower strata are seen in some parts of the Lake Superior shoreline but not in others.
That's why the bases of the indicators in the drawing here aren't all even. They are all at lake level, but the drawing has "flattened out" the rock layers for readability. We'll see all of these layers on a boat trip, before we're done here.                       (Drawing adapted from this NPS report)
In general, the members of the Munising Formation are much lighter rock than the Jacobsville, tending to whites, light browns, and greys. Where it remains, the Au Train Formation on top is denser than the layers beneath it, protecting them somewhat from erosion in the same way as the hoodoos we have seen elsewhere.
The Miners Castle Member is poorly cemented sandstone, eroding easily and subject to frequent collapse or cave-in. This layer tends to form sloping cliffs. Below it, the Chapel Rock Member is slightly tougher and tends to form caves.
Visitors can get a close personal view of the Chapel Rock Member from the lake surface, like these kayakers are doing. When our turn came, we opted for a somewhat less aggressive way to tour the lakeshore.
With all these rocks and all this erosion, one might expect that it's not a good idea to sail deep-draft boats too close to shore. Indeed, Lake Superior has hundreds of shipwrecks. We boarded a glass-bottomed boat to look at a few of them.

Captain Theresa Karr steered Miss Munising around Grand Island while narrator Marnie Kate filled us in on what we were seeing.
We soon left Munising behind as we headed for Grand Island, where we'll find the wrecks that are on this tour's schedule.
Grand Island is part of the Hiawatha National Forest. The National Forest adjoins the Pictured Rocks National Lakeshore, but is administered separately. As we got close to it, we saw the first attraction on our tour, a lighthouse.
Drawing a bit closer, we see who's flying that big flag. This must be a very nice place to live.
The East Channel Light is just around the bend. Nobody lives here. This building is a Munising icon, appearing on just about all of the town's tourist literature. It began service in 1868; but it was hard to see from Lake Superior, and its location made maintenance difficult. So the Munising Range Lights were built to replace it, and it ceased operation early in the 20th century (different sources disagree about exactly when). The restoration committee felt that the building would be more picturesque if it were left unpainted.


The first wreck we saw was Bermuda, a 145 foot wooden schooner build in 1860. In 1870, Bermuda was carrying a cargo of iron ore when she found trouble in a storm and her captain ducked into Munising harbor. The ship broke her lines, drifted out of the harbor, and sank in about thirty feet of water. The cargo was salvaged, but the ship remains where she went down.

We got to see one other wreck before the wind kicked up and Capt. Theresa decided to cut the tour short. This is a nameless scow about 35×150 feet. It's a cheaply-built, flat-bottomed boat that Marnie Kate described as "like a big Cheerios box." Almost nothing else is known about it. There is no record anywhere of such a boat being wrecked anywhere near Grand Island.
Before turning for shelter, Capt. Theresa tried to give us a look at the debris field of the Herman H. Hettler, built in 1890 and lost in a 1926 gale. But the lake was just too rough to maneuver Miss Munising gracefully, so we had to settle for an abbreviated trip.
But the vista was outstanding.
Lake Superior has lighthouses aplenty, and we went to see a few. These are the Grand Island Harbor Range Lights, also known as the Christmas Lights because they're in Christmas, Michigan. These lights were in service from 1914 to 1969.

The Munising Formation extends for about 100 miles in this area. At lakeshore, erosion has produced the dramatic cliffs that make up the Pictured Rocks. Elsewhere, it has created several waterfalls. We sought out a few of these examples of evolving landscape.
Wagner Falls drop twenty feet. This place is easy to reach, at the end of a pleasant walk from a roadside turnout.

Scott Falls are even closer to the road. This is a "dry waterfall," meaning that you can walk behind it without getting (too) wet. The drop here is ten feet.
The trail to Munising Falls starts out next to Munising Creek, whose water is red because of the cedar and hemlock trees nearby. From the path, one gets an intimate look at the Munising Formation.

That path leads to a landing with a striking view of this 50-foot waterfall. It once continued behind the falls, but that part of the trail had to be closed because of the danger of collapses due to erosion. Here we're looking at the Munising Formation's Miners Castle Member.

From the upper viewpoint, we can see folks enjoying the view from the level of the pool at the Falls' bottom. They get a pretty good view from there too, and they didn't have to climb so high.

Alger Falls are right next to the main highway, so the sound of the 15-foot cascade has to compete with that of passing cars and trucks. It's a nice view.

The Au Train River has been dammed to make power for a hydroelectric plant. The Upper Falls, which used to look like this before the plumbing was installed, drop forty feet. Sometimes the water isn't all used for the turbines, and some can be seen here, but it's just a trickle. That tube carrying the water that should be falling over these rocks is called a penstock.

Originally built by the Cleveland Cliffs Iron Company to supply power for Munising Paper, the Au Train Hydroelectric plant now serves about 600 homes.

The Lower Falls, dropping ten feet, have not been disturbed by the hydro project. As you might guess from the name, we're looking at the Au Train Formation here. This is the top, youngest layer of the Pictured Rocks Escarpment.


There are several small springs emptying into the gorge here, possibly because of water diverted by the dam. These contribute to several "weeping walls" in the immediate area.
Most of the geological wonders we see in this area are the result of erosion on the Pictured Rocks Escarpment. Sand Point is the result of material that was deposited by a combination of prevailing northwesterly wind and lake current behind Grand Island's southeast side.
Here the waves lost their energy, leaving a beach behind.



Some plants have taken hold here, but it's still a balance between deposit and erosion.
Folks will build an inuksuk just about anywhere. We can only guess about the sign left on another beach nearby. Since we were here in July 2013, it can't be a reminder about the date. Maybe it's somebody's birthday.


Beavers have helped form wetlands on Sand Point. There's a boardwalk through the marsh where we listened to many more birds and frogs than we saw.
Sand Point was put here by water from Lake Superior, but it's sustained by streams that run off the cliffs high above us.

This is Miners Castle, which gave its name to the most fragile part of the Munising Formation. It had two turrets until early one morning in April 2006, when the rear turret collapsed noisily into Lake Superior. The only witnesses were fishermen, who reported the event to the Park Service on their cell phones. Most of the rock fell away to the North, on the opposite side from our viewpoint. Nobody was hurt; but a viewing platform was damaged, and had to be relocated and rebuilt. The second picture is just to show the many colors in the shallow water near the shore.           (Photo with both turrets by FingersOnRoids)


We decided to top off our trip with a sunset cruise along the National Lakeshore. This is the best way to see these magnificent cliffs, and it's the only way to see the area's tallest waterfall.      




Before we got very far out of the harbor, a couple of guys on jet skis played with the cruise boat's wake.
Jasper Falls is just outside the boundary of the National Lakeshore, but that's a political matter. This waterfall, which is often dry in summer, drops 125 feet into Lake Superior. Here we can see all of the layers in the sketch at the beginning of this section, from the deep red Jacobsville Formation at lake level to a little bit of the dark brown Au Train Formation at the very top.
The colors come from minerals in the ground water.
• red – iron
• green – copper


• black – manganese
• white – calcium
We got a look at Miners Castle from the other side, including the lower viewing platform we didn't visit earlier. It's a long walk down to that spot. There's no sign in the lake from the collapse of seven years ago.
The landscape is continuously evolving. Here is the result of a cave-in in spring 2013, just a couple of months ago.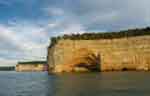 At one time, our cruise boat could have gone beneath the Grand Portal. Two cave-ins since 2000 now rule out that thrill.



Like these cliffs, most of Grand Portal Point is Chapel Rock Member.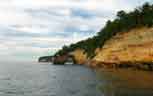 The top of the arch is called Lovers Leap. Leaping would not end well. Those lovers would be jumping into only two feet of water.




Looking very much like the bow of a ship, this is Battleship Rock. The similar, older cliffs east of it are called Battleship Row.

Chapel Cove is barely larger than our cruise boat. Of course, we had to go in there.





When we reached Chapel Falls, it was time to turn around. Chapel Rock used to be one side of an arch, but it too collapsed. Now the white pine on top of it gets nourished by roots that stretch to the mainland, making it look like the tree is holding on for dear life. Of course, that's exactly what it's doing.
As the sun fell to the horizon, the changing light really brought out the contrasts here, reminding everyone why this place is called Pictured Rocks.

Bridal Veil Falls crest 140 feet above Lake Superior. Here we can see all of the escarpment layers, from the Jacobsville Formation at lake level to the Au Train Formation at the top of the cliff. It's hard to imagine that the areas around Chapel Rock and Miners Castle once looked like this. But that was several million years ago.

---
Our last flying day had some interesting challenges. The plane was at Marquette and our car was at Bridgeport, almost 800 miles away by Great Circle route. That's too far for a Grumman Tiger to go without a fuel stop, and any simple division of that route has two problems.
• it's right across the middle of Lake Huron
• it goes directly over Toronto, the busiest airport in Canada
Flying south of Lake Erie isn't attractive because it adds over 100 miles to the trip. Landing in Ontario for fuel isn't attractive because of the expense, and because it would mean two more appointments with Customs. Maybe there's still a way.
I figured out that the plane would make it from Drummond Island, Mich., to Hamilton, N.Y., in a time that was comfortable for both the airplane and for its occupants. We would overfly Canada without needing to land there, and we'd avoid Toronto's congestion entirely. This only added about 20 miles to the Great Circle distance, which was quite bearable.
First we had to backtrack from Munising to Marquette, and then we took off for Drummond Island, a little piece of Michigan that's almost entirely surrounded by Ontario. Here's the Tahquamenon River snaking toward Newberry.
Drummond Island has a curious airport; it's right in the middle of a golf course. The facility directory even has a note warning pilots to watch out for golf carts crossing the runway.

We filled up, filed the necessary flight plan, and took off toward Gore Bay, not far from Robert Pim Butchart's original home. We passed Little Current, then Killarney …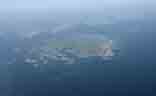 … navigating toward the Bustard Islands, a waypoint that kept us over land (or at least close) for the entire route.
Toronto Center was providing us with radar advisory service. Shortly after I turned toward Kingston, the controller informed me that we would be out of contact – both by radio and on radar – for about an hour. This is an odd feeling for a pilot who does most of his flying between New York and Boston.
We flew past Byng Inlet, and eventually got to a place where we were back in touch (electronically) with the ground.

Here's a quick look at Kingston before we crossed the border again. The U.S. military controller was obviously not used to people arriving from our direction who had not taken off in Canada. The doubt was obvious in his voice as he asked us two or three times where we were coming from, and "verify that's in Michigan, as in United States?"

Yes, indeed. We made our last fuel stop for a while and took off just before the sun set. One more hour in the air, and we were home.

I mentioned the new chart symbol for windmill farms earlier in this story. Just south of Kingston, Wolfe Island provides a good example. The entire island is covered with turbines.



Here's how this hazard is depicted on both U.S. and Canadian aeronautical charts. What a racket those things must make. I wonder if there are any birds left on Wolfe Island.

---
We've been planning this trip ever since we learned three years ago that Ken Blackman meant to host a convention at Arlington. From our first stop at the Bluebird Farm to this
Superior sunset, we have been blessed with three weeks of good days. We've seen places and done things that would not have even entered our minds without the catalyst of the Grumman club. As usual, we also got a taste for more things that captured our interest. The usefulness of these little planes always surprises me a bit, no matter how much I think I know about them. Time to start planning another tour, don't you think?
Trip Stats:
6084 nautical miles (7001 statute miles)
19 states and four Canadian provinces
Four of the Great Lakes plus the Georgian Bay
58:01 hours block-to-block
53:36 hours in the air
586.1 gallons of fuel